---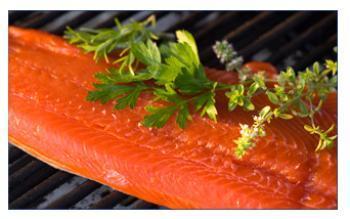 Target is the latest large food retailer to pledge that it won't sell genetically engineered salmon. It joins nearly 60 other stores inlcuding Trader Joe's, Aldi, Whole Foods, Marsh and Hy-Vee.
"There's no room on our plates for genetically engineered seafood. Consumers don't want it and price-competitive stores across middle America are refusing to sell it," said Eric Hoffman food & technology policy campaigner with Friends of the Earth. "We need to see more big retailers take this kind of initiative. We're hoping that Safeway, which has become a real leader in seafood sustainability in other ways, and other major grocery stores turn the corner here and pledge to stay away from genetically engineered salmon."
The Food and Drug Administration (FDA) has been reviewing a proposal to permit the sale of genetically altered salmon. It has received more than 1.8 million comments from consumers, most of them opposing the proposal.
The FDA had preliminarily determined that the process would have no effect on the environment. But a new peer-reviewed study published in the Proceedings of the Royal Society, found evidence that genetically engineered salmon can breed with wild trout and create offspring that grow even faster, possibly overpowering wild fish in the competition for food.
Problem or solution?
"Simply put, this genetically engineered fish is a problem masquerading as a solution," said Heather Whitehead, online campaigns director at Center for Food Safety. "It's bad for the consumer, bad for the environment, and bad for our native salmon. Since these fish will likely not be labeled, consumers have to rely on retailers like these to reject unwanted and unnecessary GE fish. We will continue to pressure other retailers to side with consumers."
The FDA has said that it will likely not require labeling genetically engineered salmon, providing consumers no way of knowing if the fish they are feeding their families is genetically engineered.
At least 35 other species of genetically engineered fish are under development, and the FDA's decision on salmon will be seen as a precedent for other fish as well as other food animals, including cows, chickens and pigs.
---