---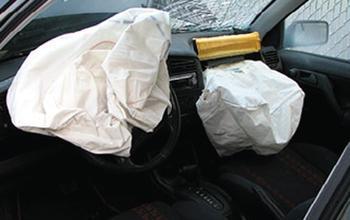 A U.S. Senate investigation into defective Takata airbags has found what investigators say was widespread manipulation of airbag inflator test data by Takata employees, with some occurring after the recalls began. 
In another development, an auto industry group reports that the ammonium nitrate propellant was a key factor in the deadly ruptures -- but not the only one.
The Senate findings, by the minority staff of the Commerce Committee, were unveiled on the Senate floor by U.S. Sen. Bill Nelson (D-Fla.), the panel's ranking member. Nelson said committee investigators made the findings after reviewing thousands of company documents and emails dating back more than a decade.
"These new documents speak for themselves," said Nelson. "There is no doubt in my mind that Takata failed to prioritize the safety of its products." 
Among the documents were:
A 2005 memorandum from an airbag production engineer that warned  "the integrity of validation reports … is in serious question." 
A 2006 email from a Takata engineering manager which claimed testing reports were "cherry picked" and a Takata employee was "schmoozed" to accept deviations in the data.
A 2010 presentation documenting deficiencies in an experimental inflator that revealed, "TKJ [Takata Japan] was informed of these results, but altered them and reported good results to Honda."
2013 notes from a company director explaining that he shared his view with Takata's senior vice president of quality assurance that the range of an airbag recall might be a "violation of our moral obligation to protect the public" because it did not capture the right range of vehicles. 
The findings update a report Nelson released last June showing Takata had known for years that there were serious production and testing issues.
Hot and humid
The auto industry group said the ammonium nitrate propellant used in millions of airbag inflators was contained in assemblies that failed to protect the chemical from moisture in humid claimtes.
Over time, exposure to humidity coupled with temperature swings can cause the ammonium nitrate to combusst violently, rupting the inflator when the airbags deploy in a crash, the Independent Testing Coalition report said, according to a report in Automotive News.
ITC leader David Kelly said it takes three factors to make the inflators vulnerable to rupture:
ammonium nitrate;
the design of Takata's inflator assembly; and
heat and humidity.
"You can't have the energetic disassembly without all three factors," Kelly told Automotive News. "You have to have all three."
Takata and safety regulators have long contended that a hot, muggy climates played a role in the airbag ruptures, but the ITC report is the first time a root cause has been identified.
---