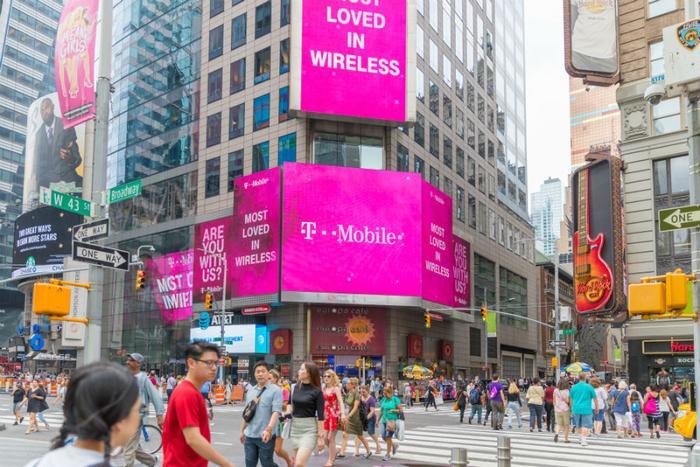 In an effort to drum up support for T-Mobile's upcoming merger with Sprint, the carrier has promised to roll out three new programs if the deal takes place. 
At an event on Thursday announcing T-Mobile's plan to launch 5G in early December, the carrier gave details on three new programs that will join its roster of services if the $26.5 billion merger happens as planned. 
T-Mobile said its "first planned Un-carrier moves for the proposed new T-Mobile" will include new programs that will rely on the new company's "transformational network." 
Should the merger take place, the following initiatives would be cleared to move ahead, bringing "accessibility and connectivity to the most deserving and underserved consumers across the country," according to T-Mobile: 
Connecting Heroes Initiative. A pledge to offer free 5G access — including unlimited talk, text, and smartphone data — to every first responder at every public and non-profit state and local police, fire, and emergency medical technician location across the U.S. for the next decade.

Project 10Million. A new program designed to "eradicate the homework gap that exists for millions of children by offering free service and hotspots and reduced cost devices to 10 million households around the U.S. over five years." 

T-Mobile Connect. A new $15-a-month phone plan option which T-Mobile says is for "everyone, especially lower-income consumers."
Combined 5G network
CEO John Legere has been making a case for the merger ever since it was first proposed a year and a half ago, saying that joining forces with Sprint will enable the creation of a "spectacular" 5G network. 
Legere noted on Thursday that the deal "has taken longer to close than we thought it would." He added that critics of the deal "have yet to realize that what they want is what we want." The company says that combining T-Mobile and Sprint's networks will create "ridiculous amounts of network capacity" and will enable the creation of several enticing and competition-increasing programs for consumers. 
"Only the New T-Mobile's transformative 5G network will FINALLY have the capacity and reach to make the BOLD moves we announced today that are squarely aimed at SOLVING inequities that have huge impacts on our society," Legere said in a statement. 
The Federal Communications Commission and the Justice Department have each given official approval for the merger. However, the deal is still opposed by 18 state attorneys general who argue that it will harm competition and raise prices for consumers.