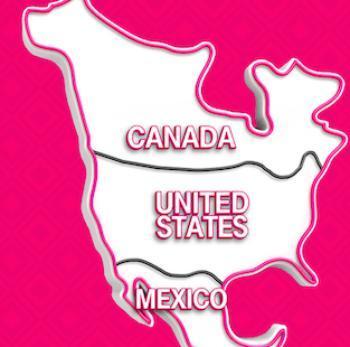 Consumers who travel in foreign countries often get a nasty surprise when they return home – a cell phone bill of $1,000 or more.
That's because roaming charges between countries are astronomical. While most carriers now offer a reduced-price international package, consumers who don't want to get blindsided often just turn off their phones when they travel or just leave them at home.
Gradually, those foreign roaming charges seem to be falling by the wayside, just as domestic roaming charges did in the 1990s. T-Mobile says it is taking steps to make roaming charges a thing of the past for consumers traveling in North America.
The company's newly-announced Simple Choice plan extends coverage and calling across the U.S., Mexico and Canada at no extra charge. Customers on the Simple Choice plan will be able to call both land lines and mobile phones and receive 4G LTE data across all 3 countries at no additional cost.
T-Mobile says its plan will cover a lot of travel bases since its research shows that in 2014, 35% of all international calls and 55% of all international travel from the U.S. was to Mexico or Canada.
Disruptive force
The announcement might be viewed as another attempt by T-Mobile to be a disruptive force in mobile communications. Its commercials directly attack competitors and T-Mobile was the first to openly poach its rivals' customers, offering to pay early termination fees for customers who switched.
In keeping with that strategy now T-Mobile accuses its rivals of raking in nearly $10 billion in global roaming charges at over 90% margins last year, suggesting consumers are getting gouged.
"After spending billions buying up Mexican telecoms, AT&T's CEO is promising 'the first seamless network covering Mexico and the U.S.,' something 'unique' that 'nobody else will be able to do for the consumer.' So much for that. They won't be the first. And they won't offer Canada for free," said John Legere, president and CEO of T-Mobile.
Un-carrier
Referring to his company as the "un-carrier," Legere says T-Mobile is partnering with Canadian and Mexican providers to get rid of roaming charges. He says the new plan takes direct aim at the carrier practice of "jacking up the cost and complexity for customers the moment you set foot over a border."
T-Mobile claims that when you call or travel in Mexico, you have to make your way through several international calling and roaming packages that can ratchet up your monthly rate. By contrast, it says its new plan makes calling or traveling in Mexico or Canada just like being at home.
The new Simple Choice plan goes into effect July 15. Then, the company says, it's just one big happy continent.
"Zero ridiculous calling rates, zero jacked-up data rates, zero hoops to jump through," T-Mobile said in a press release. "And, as always, you get all the other Un-carrier benefits like Music Freedom and Wi-Fi calling and texting. You'll be even able to tap into your Data Stash in Mexico & Canada starting later this year."
The service is automatically extended to every new Simple Choice customer. Existing customers may switch to the new plan for free.