---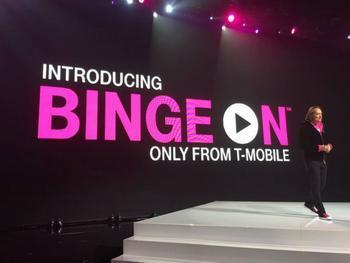 If any company is going to try to prank the media on April Fools' Day, it would probably be T-mobile, which brands itself the "un-carrier" and prides itself on doing things differently.
However, when the company put out a press release Friday, announcing "Binge On Up," it was likely that no one fell for it. The joke was a little too obvious. Still, it had a point to make.
Last fall T-Mobile announced "Binge On," which allows its customers to watch as many movies as they want on streaming services like Netflix without having it count against their monthly data plans.
So on Friday, when T-Mobile announced "Binge On Up," it sounded like an expansion of that promotion. But it quickly became clear that wasn't the case. The company was just having a little fun, at its own expense. The accompanying video shown below might make a clever commercial parody on Saturday Night Live.
Besides pulling off a clever joke, however, T-Mobile put out a reminder about its Binge On promtion, reporting that customers are currently streaming twice as much content as before from providers like Netflix, Amazon, and YouTube.
But as we reported last November, the promotion appears to teeter around the edge of Net Neutrality rules. Corynne McSherry of the Electronic Frontier Foundation was among critics who questioned the promotion.
"We have an Internet and a whole digital economy that was built around the notion that there weren't gatekeepers," McSherry said in an NBC News report last fall. "ISPs are supposed to be common carriers: 'We'll carry the data, whatever it is.' Whenever we have a program like T-Mobile's, you're moving away from that model."
The Binge On promotion is restricted to customers on data plans of three or more gigabytes per month.
---