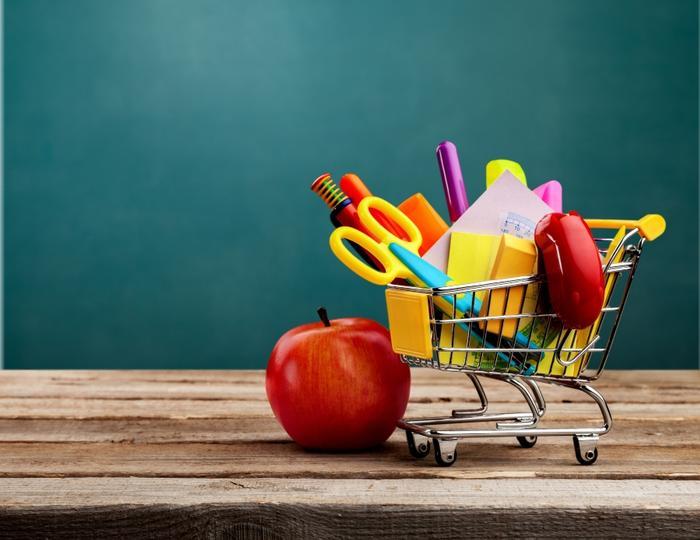 The kids probably don't want to hear this, but back to school time is just weeks away -- and with it back to school shopping.
Spending on supplies to start a new school year is often a good economic barometer. In August 2008, spending plunged and the Great Recession hit with full force a month later. This year, the outlook is a lot brighter, improving on last year.
Deloitte's annual Back to School Survey shows spending is projected to reach $27.8 billion, with the average student spending $519 for clothing, supplies, computers, and electronics.
Electronics and gadgets, often seen as discretionary, could see a 29 percent increase over 2019. The category includes smartphones, tablets, and wearables and could rise $800 million. Consumers who have these items on their shopping lists plan to spend an average of $305 on them.
More sales moving online
Back to school purchases traditionally have been made in stores such as Walmart and Target. That trend should continue this year, though more sales are expected to shift to online channels such as Amazon. Deloitte projects that 29 percent of purchases will be made online in 2019, up from 23 percent last year.
The lion's share of online purchases will be made using smartphones, both for placing the order and for researching the best prices. The use of PCs in back to school shopping is expected to drop from 49 percent last year to 42 percent this year.
"For the first time, people are telling us they're just as likely to use a smartphone to make purchases as a laptop or desktop, which previously held the lead when it was time to click the 'buy' button," said Rod Sides, vice chairman, Deloitte LLP and U.S. retail, wholesale and distribution leader. 
Money talks
The survey shows back to school shoppers continue to be motivated mostly by price. The three largest factors when deciding where to shop are sales, discounts, and competitive prices. Even though convenience remains a strong motivator, the survey shows most shoppers will stray from the prescribed lists offered by their local PTA.
"Price, product, and convenience are the foundation of back-to-school shopping, like reading, writing, and arithmetic," said Sides. "Nearly all shoppers are in the market for school supplies, which tend to be most price-driven."
But spending on clothing and accessories may get most of the dollars. That category is expected to account for more than half of back-to-school spending. In comparison, actual school supplies will likely get 22 percent of back to school money.
Few shoppers are waiting until the last minute to begin their purchases. The survey found that most plan to begin their shopping spree in late July or early August.