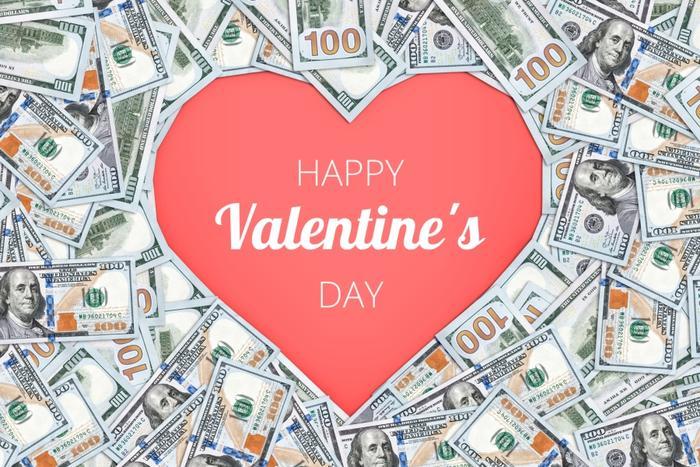 Just like Christmas, Valentine's Day is fast becoming a holiday on which consumers spend too much money and sometimes go into debt.
A new survey from LendingTree found that couples plan to spend an increasing amount of money, often a lot more than their significant others expect them to. Men tend to be the biggest spenders, typically shelling out almost two and a half times what their significant others expect on what was once a fairly minor holiday.
The survey found that men plan to spend an average of $95 dollars on Valentine's Day, more than double the $41 women plan to spend. Compare that to what men and women expect their partner to spend -- no more than $39.
If you are early into a romance you are more likely to spend the most money. For example, couples who are engaged both plan to spend an average of $92. People who are just dating plan to spend around $88. If you're married, the spending level drops to $57.
Financial obligations tend to reduce Valentine's Day spending. Consumers who have car loans, mortgages, or substantial credit card debt plan to spend well under the averages.
Young love spends the most
Generation Z is most in the Valentine's spirit, with expectations to spend an average of $113. On the other hand, one out of three baby boomers said they would be upset if their partner spent too much money.
Here's a tip: your partner probably does not want the extravagant gift you're planning. What 32 percent of consumers say they want is a nice meal at a restaurant. Twenty-nine percent would be happy with a card.
Women are more likely to prefer a dinner out or flowers or candy. Men, on the other hand, would like a dinner at home or maybe a night out at the movies.
Making your mate happy on Valentine's Day doesn't have to put you in debt. Esquire magazine notes that most couples' first date is most likely a movie. It suggests buying her a poster from the first movie you saw together and a copy of the soundtrack.
For guys, the website Askmen.com has a number of low-cost suggestions, including the Amazon Dot smart speaker, giving him someone else to talk to besides you.