---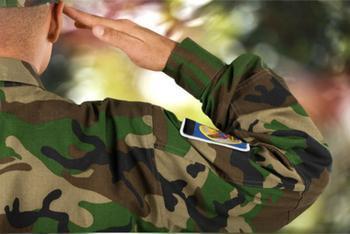 U.S. military personnel sometimes face greater personal risk than the average American, especially when deployed to hostile regions.
But a survey by the National Foundation for Credit Counseling (NFCC) shows that they also face greater financial risk when they return home. The survey highlights a number of reasons.
With multiple deployments, military consumers are seldom in the same place for very long. With frequent rotation, it's hard for military spouses to maintain consistent employment. When their military careers are over, it can be expensive for military personnel to transition to civilian life.
NFCC says these are conditions that present challenges for financial stability and asset building.
More unsecured debt
The survey found military personnel tended to have more unsecured debt than the average consumer. Their real assets were about 84% of the average consumer in the survey.
Thirty-six percent of military personnel in the survey were also paying off student loan debt. While that was less than the general student-age population, the survey found they had more car loan debt, averaging nearly $14,000 per person, and more credit card debt, averaging $11,000 per person.
Former Marine Cory Hixson served in Iraq and now works as a financial adviser for Edward Jones in Marysville, Ohio. Hixson says he can relate to a lot of the experiences of the military personnel who participated in the survey.
Living fast
"After serving in Falluja and returning home, I hit the fast forward button on life," Hixson said. "I had seen how short life could be. I set out to have the house, the new cars in the driveway, the picket fence and a family. My savings quickly went to zero and I found myself in financial trouble."
Too often, military personnel who face financial challenges turn to payday lenders, which usually makes the situation worse. Payday lenders, meanwhile, consider military personnel a lucrative market and often locate storefronts near military bases.
Congress passed the Military Lending Act to protect service personnel from abusive lending practices. Active duty members of the armed forces, and those on Guard or Reserve duty, cannot be charged more than 36% on payday loans, auto title loans, and tax refund anticipation loans. It also provides similar protections for spouses and some dependents.
NFCC says it has found more members of the military are taking advantage of its credit counseling resources and programs so far this year. The Foundation says, in particular, its Sharpen Your Financial Focus program serves more active duty, reserve, guard, retired, veterans, and family members. Military participation jumped from 13% of the total in 2013 to 26% this year.
NFCC represents non-profit credit counselors who provide free or low-cost financial literacy education.
---