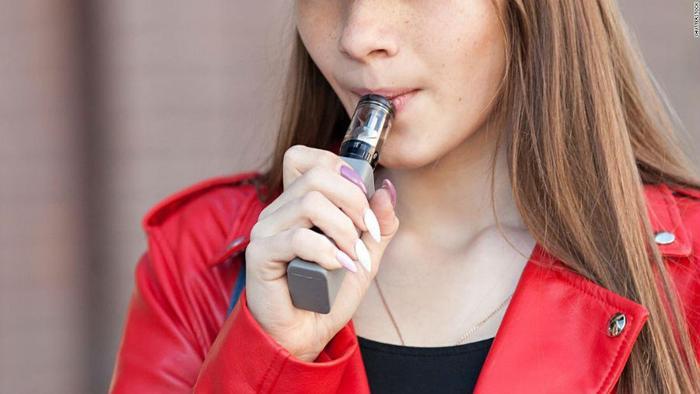 The federal government is stepping up its war against e-cigarettes, used by some smokers to wean themselves off cigarettes but feared by public health professionals because they are exposing teens to nicotine.
U.S. Surgeon General Jerome Adams has issued a public health warning, saying he is concerned that there has been a large increase in teenagers using the products. E-cigarettes create vapor from liquid that contains nicotine, the addictive substance in cigarettes.
Public health officials are concerned that young people who get hooked on nicotine from their use of e-cigarettes will eventually begin smoking. They also worry about other chemicals in the vapor they say is harmful.
In his advisory, Adams said he is concerned about the increase in teen "vaping" because it isn't clear what nicotine will do to a developing adolescent brain.
"Brain development begins during the growth of the fetus in the womb and continues through childhood and to about age 25," Adams warned. "Nicotine exposure during adolescence and young adulthood can cause addiction and harm the developing brain."
Rapid growth in use by teens
Adams said he is concerned that e-cigarette use has become popular among young people, noting its use has become exponentially widespread over the last five years. Adams says the use of e-cigarettes is higher among high school students than adults and that more young people use e-cigarettes than smoke cigarettes.
Adams singled out the e-cigarette product Juul for special condemnation because it appears to be highly popular with teenagers. In his advisory, Adams said Juul's sleek design is easy to conceal and doesn't emit much of an odor. Adams says parents should be vigilant and look for signs that teens are using e-cigarettes.
In October, the Centers for Disease Control and Prevention (CDC) documented a huge increase in sales of Juul products, noting that sales increased from 2.2 million devices sold in 2016 to 16.2 million devices sold in 2017. The study found that Juul was found to contain more nicotine than any other brand of e-cigarette.
'No redeeming benefits'
"There are no redeeming benefits of e-cigarettes for young people," Corinne Graffunder, director of the CDC's Office on Smoking and Health, said at the time. "The use of certain USB-shaped e-cigarettes is especially dangerous among youth because these products contain extremely high levels of nicotine, which can harm the developing adolescent brain."
Last month, the Food and Drug Administration (FDA) announced plans to restrict the sale of fruit and candy-flavored e-cigarettes at convenience stores and gas stations. FDA Commissioner Scott Gottlieb said expressed alarm at what he called the "disturbing and accelerating trajectory of use we're seeing in youth and the resulting path to addiction."