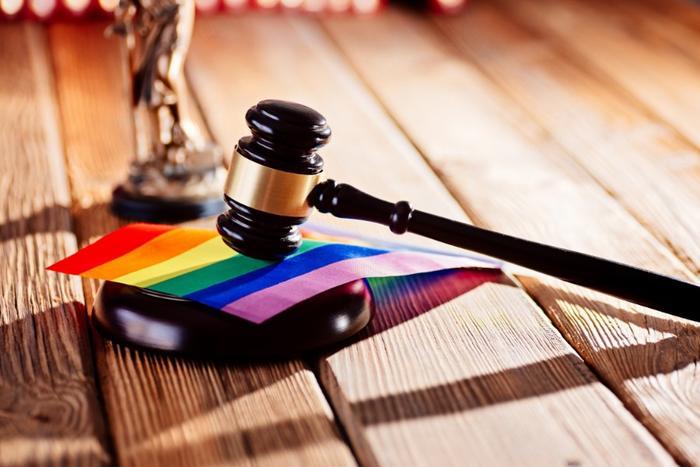 In a landmark ruling on Monday, the U.S. Supreme Court voted to make it illegal for gay, lesbian, and transgender workers to be discriminated against.
The Trump administration previously argued that Title VII of the Civil Rights Act, under which discrimination based on sex is illegal, didn't apply to claims of gender identity and sexual orientation.
By a vote of 6-3, the court ruled that the federal law does cover sexual orientation and transgender status. The ruling represents a victory for millions of LGBTQ workers and advocates nationwide. 
Landmark case
The historic ruling was written by President Trump's first Supreme Court appointee, Justice Neil Gorsuch. Comprising the rest of the majority was Chief Justice John Roberts and the court's four liberal justices.
"An employer who fires an individual for being homosexual or transgender fires that person for traits or actions it would not have questioned in members of a different sex. Sex plays a necessary and undisguisable role in the decision, exactly what Title VII forbids," Gorsuch wrote.
"There is simply no escaping the role intent plays here: Just as sex is necessarily a but-for cause when an employer discriminates against homosexual or transgender employees, an employer who discriminates on these grounds inescapably intends to rely on sex in its decisionmaking," the opinion read.
Presumptive Democratic presidential nominee Joe Biden celebrated the ruling, saying the court "confirmed the simple but profoundly American idea that every human being should be treated with respect and dignity. That everyone should be able to live openly, proudly, as their true selves without fear." 
Major LGBTQ victory
Gay rights advocates said the ruling was a long-awaited and overdue victory.
"The Supreme Court's clarification that it's unlawful to fire people because they're LGBTQ is the result of decades of advocates fighting for our rights," said James Esseks, director of the American Civil Liberties Union's Lesbian Gay Bisexual Transgender & HIV Project. "The court has caught up to the majority of our country, which already knows that discriminating against LGBTQ people is both unfair and against the law."
House Speaker Nancy Pelosi (D-Calif.) called the ruling "a victory for the LGBTQ community, for our democracy and for our fundamental values of equality and justice for all."
In a release published by the Human Rights Campaign, Gerald Bostock -- one of the petitioners who claims he was fired from his job as a child welfare services coordinator after joining a gay softball team -- said there were "no words to describe just how elated I am."
"Today, we can go to work without the fear of being fired for who we are and who we love," Bostock said. "Yet, there is more work to be done. Discrimination has no place in this world, and I will not rest until we have equal rights for all."