---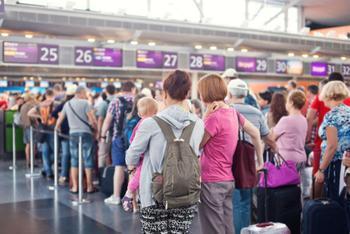 As the Transportation Security Administration (TSA) struggles to screen passengers at the nation's busiest airports, its job may be about to get a lot harder.
And for airline passengers passing through those busy airports, the nightmare may only be beginning.
Airlines for America (A4A), the industry trade group for major U.S. airlines, has issued its summer air travel forecast, projecting this summer's passenger traffic to beat last year's by 4%. And last year was an all-time record.
"We saw airfares fall throughout 2015 and that trend continued in the first three months of 2016," said John Heimlich, A4A Vice President and Chief Economist. "As airlines compete for passengers across an increasing portfolio of markets, air travel is becoming increasingly affordable and accessible."
Not exactly good news
That might sound like good news, but it probably isn't. Already the bottlenecks at security check points have sent tempers boiling, as passengers can't get through the lines in time to make their flights.
As Chicago television station WLS reported over the weekend, 450 American Airlines passengers became stranded at O'Hare Airport Sunday when they couldn't get through security in time and the planes left without them.
Airline personnel rounded up hundreds of cots so the stranded passengers could spend the night in the terminal – a scene usually occurring only during a major weather emergency. It could well become a routine occurrence this summer at other busy airports.
A4A expects about 2.51 million passengers a day will book passage on U.S. airlines from June 1 through August 31 – 231 million over the course of the summer. To meet the record demand, it says airlines will offer 2.78 million seats per day.
Quickly optimize staffing
The airlines may be able to accommodate that number, but the real question is whether the TSA's security system can. A4A says TSA should move to "quickly optimize staffing" to reduce boarding wait times.
"Research shows that people who get through security more efficiently have a significantly better travel experience," said Sharon Pinkerton, A4A Senior Vice President of Legislative and Regulatory Affairs.
Pinkerton notes that spring travel has already proven to be a challenge, with some passengers waiting an hour and a half to get through lines. Some passengers at O'Hare told CNBC that they arrived three hours early, as instructed, only to find the security checkpoint was not staffed during the early morning hours.
TSA says it is working with fewer screeners and has tightened security procedures. Congress last week approved a measure that shifts $34 million in the TSA budget to the hiring and training of additional screeners.  
---