---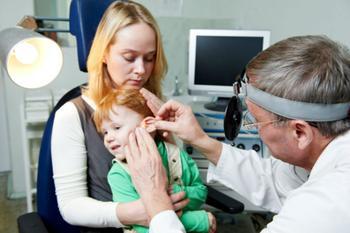 Three-quarters of children will get an ear infection during their first year of life. Antibiotics are commonly prescribed to treat an ear infection, but is a short course of antibiotics the best way to treat an ear infection in a child? Maybe not, according to new research.
In a new study involving 520 children with ear infections, researchers from the University of Pittsburgh found that the standard course of antibiotic treatment is far more effective than the shortened antibiotic regimen.
What's more, the study found that the 10-day regimen did not translate to an increased risk of antibiotic resistance or side effects such as diarrhea or diaper rash.
"The results of this study clearly show that for treating ear infections in children between 9 and 23 months of age, a five-day course of antibiotic offers no benefit in terms of adverse events or antibiotic resistance," said Alejandro Hoberman, chief of the general academic pediatrics division at the Children's Hospital of Pittsburgh.
Lower risk of treatment failure 
Children in the study received either a five-day course of antibiotics (followed by five days of placebos) or a standard 10-day course. For those in the five-day group, there was a 34% risk of treatment failure. Children in the 10-day group, however, had only a 16% risk of treatment failure.
Amid current concerns regarding overuse of antibiotics and increased antibiotic resistance, Hoberman says these findings are significant. Not only was it determined that a 10-day course of antibiotics is more effective, it was proven that a shortened antibiotic regimen doesn't reduce a child's risk of developing antibiotic resistance.
Hoberman stated that although we should be concerned about the emergence of resistance overall for this condition, "the benefits of the 10-day regimen greatly outweigh the risks."
The study was published online in the New England Journal of Medicine.
---