---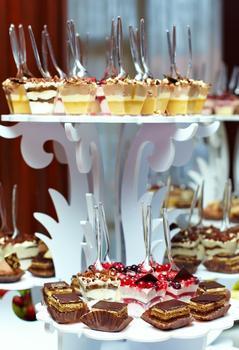 If our distant ancestors could see us now they'd be flabbergasted and frustrated by how we managed to take a biological process as simple and basic as eating and turn it into an overcomplicated overanalyzed mess.
Granted, our modern world does contain some culinary complications our ancestors never had to handle: their primary food-related health problems mostly involved malnutrition and famine, whereas ours center around too much access to too many temptingly fattening foods.
Even so, we confess to a bit of head-shaking when we read this press release from Duke University's Fuqua School of Business, about another eating-habits research study. The press release had the headline "Political correctness could affect holiday weight gain."
In the context of the article, it's obvious that "political correctness" here actually means "being hyper-vigilant against the possibility of offending someone due to their weight." Indeed, the actual research study doesn't mention political correctness at all, but instead has the title Matching Choices to Avoid Offending Stigmatized Group Members.
The gist of the research seems to be that, when people are asked to select food both for themselves and for others, and are given a choice between healthy or unhealthy food options (wheat crackers or chocolate-chip cookies, respectively), those choices are likely to change based on whether the various people are overweight or of normal weight.
As the press release says:
… in similar, additional studies, participants told researchers they thought it would be offensive either to give an overweight person healthy food and then take unhealthy food for themselves or, conversely, to give an overweight person unhealthy food and then take healthy food for themselves.

"This suggests that if you are heading back to the buffet to cut a piece of pumpkin pie for your overweight uncle, you might also cut a larger piece than normal for yourself, so you don't hurt his feelings," [researcher Peggy] Liu said.
We must be doing buffets and dinner parties wrong; in buffet situations we only select food for children too young to do so themselves, and at parties we always let our guests pretty much choose what they want from whatever options we've made available. That said, we do indeed think it would be offensive if we not only abandoned this practice, but made a point of serving delicious cookies to our skinny guests and whole-wheat crackers to the plump ones.
Despite this, the study does make some potentially good points regarding how your own personal food choices could be affected by what others are eating—such as eating more pie than you intended so your uncle's serving looks smaller. It might be hard to avoid overthinking such matters, because when you get right down to it, we're evolutionarily hard-wired to have a bit of a Goldilocks fetish where food is concerned—especially fat, sugar and salt, which collectively bear the bulk of the blame for modern obesity problems.
Because our bodies need all of these things to survive and be healthy: eat too little, you can get sick or even die. Eat too much, and you can also get sick or even die. Only when everything's Just Right do you feel just right too, and we'd tell you how to eat Just Right according to the latest nutritional scientific consensus, but new research will probably make our advice obsolete by next week, so we'll keep eating according to our old rule: A little bit of everything, but not too much of anything. (Except maybe at a Thanksgiving feast.)
---