---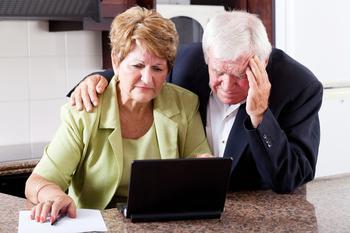 Consumers approaching retirement are no doubt confused at all the conflicting advice they receive about how much income they will need for a "comfortable" retirement.
Financial advisors generally suggest that most retirees will need at least 70% of the annual income they earned before retirement. By that metric, a new study from personal finance site Bankrate shows seniors in all but three states – Alaska, Hawaii, and South Carolina – are coming up short.
"Americans are facing a shortfall of retirement income because their saved assets are not enough to fund their desired or even current lifestyle," James Carlson, chief investment officer at Questis, a financial services firm based in Charleston, South Carolina, told Bankrate.
The study authors looked at the incomes in each state, broken down by age. The median household income in South Carolina for people age 45 to 64 is $52,289. The median income for those 65 and up is $36,694, which is just over 70% of the younger group.
The biggest shortfall is found in Massachusetts, where those 65 and older earn just 48% of what those age 45 to 64 earn.
Reasons for discrepancies
What causes the discrepancies between states? For one thing, Alaska has very generous retirement benefits for state employees who remain in the state after they retire. Hawaii, another state with a high cost of living, is generous to seniors when it comes to tax breaks. Seniors in Hawaii also tend to spend less on health care.
South Carolina has become a major retirement destination, and many of the people moving to the state have significant investment and pension income, which boosts the average.
In today's low-interest environment, savings will yield almost no income. Retirees living off savings will need to consider investments that have potential to either grow the value through capital appreciation or generate income through dividends.
Those who have a defined benefit pension are fortunate, but since pensions have been phased out over the last couple of decades, fewer workers have access to that kind of steady income.
Social Security is another defined benefit, but in most cases doesn't go far enough to be a sole source of income.
What to do
One of the best ways to generate income in retirement is by working. Someone who has worked for nearly 50 years might not want to contemplate that, but a part-time job in retirement that coincides with the retiree's interest or passions might not seem like work at all.
If you love animals, for example, you can make pretty good money, with flexible hours, as a pet sitter.
Along with adding to income, look for ways to cut expenses. Relocating to a state with a low cost of living, for example, might allow you to live on less money.  
---