---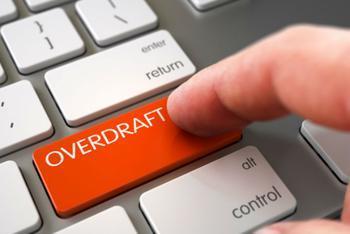 Recently implemented banking regulations have cut down on bank overdraft charges. Now if you make a debit card purchase without sufficient funds in your account, the transaction is denied, unless you have opted-in to the bank's overdraft coverage.
Previously, the transaction always went through. In return for covering your purchase, the bank assessed a fairly hefty fee. If you spent the day shopping, making five or six overdraft purchases, you would get socked with five or six overdraft fees.
But overdraft charges have not disappeared. If you write a check that bounces, you can be certain that you'll pay a fee. And, if for some reason you have agreed to opt-in to the bank's overdraft coverage, you are right back paying overdraft fees for every debit card purchase not covered by adequate funds in your account.
University-bank partnerships
A study by NerdWallet of Consumer Financial Protection Bureau (CFPB) data shows college students tend to pay the most overdraft fees, especially if they have accounts at university-affiliated banks. The study looked at university-affiliated checking accounts at 20 of the largest schools in the country.
It found that when schools partnered with banks, giving preferred access to new customers, students tended to pay for it. Not that the university-affiliated banks provided bad products. The study found the accounts it examined were no worse than the national standard.
Even though the schools are profiting from the arrangement, the authors say it could be argued that banking services on campus are often needed. It's just that students need to be careful.
Paying a steep price
"History tells us that when schools and banks get together to jointly market products like campus checking accounts, credit cards or student loans, students can pay a steep price," said Seth Frotman, assistant director for the Office for Students and Young Consumers at the CFPB.
The NerdWallet authors have come up with some simple advice. Before signing up for a checking account at the university-affiliated bank – or any bank for that matter – do some investigating.
Find out the amount of the overdraft fee. Is there a limit on the number of overdraft fees that can be charged in a single day? If you do not opt-in for overdraft coverage, can you still incur a fee?
Most banks will encourage you to opt-in for overdraft coverage, but there is really no good reason to do so, and a lot of good reasons not to. Having your purchase declined for insufficient funds is not the worst thing in the world, especially if it spares you a $35 fee.
---