---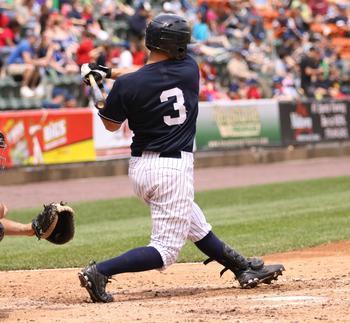 The use of non-wood bats in youth baseball has spurred decades of controversy about whether they propel the ball too fast, in part because of their higher bat-to-ball energy transfer — the "trampoline effect."
But a study at Brown University finds that in some cases non-wood bats do not hit the ball any faster. In the hands of young teen players, for example, lighter non-wood bats hit the ball at wood-like speeds.
The concern has been that faster hits not only make the game harder for the defense but also more dangerous. Such concerns have led to uniform bat regulations in college and high school baseball, but amid uncertainty about how non-wood bats perform in the hands of younger players, the rules are less consistent for that age group.
"Everyone wants baseball to be safe and enjoyable," said biomechanics scientist Glenn Fleisig, chair of the medical and safety advisory committee of USA Baseball, the nation's governing body for all amateur and youth baseball. "The time has come for us to have coordinated rules for bat performance in youth baseball, but the bat regulations for high school and up cannot be simply applied to youth baseball."
More data
What's needed is more scientific data relevant to younger teens. In a study now online in the Journal of Applied Biomechanics, researchers at Brown University and the Lifespan health system took a swing at gathering some. Joseph "Trey" Crisco, professor of orthopaedics, and colleagues recruited 22 volunteer hitters aged 13 to 18 to take about 3,400 swings with 13 different youth baseball bats (all of the non-wood bats tested were too light to be allowed in high school or college play).
What the research team found is that while non-wood bats did hit the ball faster overall, that varied widely based on the bat model and the batter's age. Among the 10 non-wood bats studied, only three allowed players to hit the ball significantly faster than the three wood bats. One bat produced significantly slower hits, and six other bats produced hits of essentially the same speed as wood.
For the youngest teen baseball players, many of whom need lighter bats to participate at all, one of the most significant findings was that lighter non-wood weight bats did not launch the ball at significantly higher speeds than wood bats.
"Professor Crisco's work is going to be the foundation of data for making regulations and recommendations for youth baseball bats going forward," said Fleisig, who is also research director of the American Sports Medicine Institute.
---