---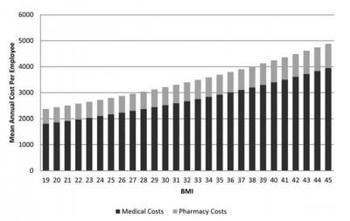 Need another reason to shed some pounds? Here's one: Researchers at Duke Medicine have found that medical costs rise steadily as the body mass index (BMI) goes up.
Even when the BMI is in the high normal range -- 19 or so -- medical costs were higher than they were for thinner people, the study published in the journal Obesity found.
"Our findings suggest that excess fat is detrimental at any level," said lead author Truls Østbye, M.D., Ph.D., professor of community and family medicine at Duke and professor of health services and systems research at Duke-National University of Singapore.
BMI is a measurement of a person's weight adjusted for his or her height, and can be used to screen for possible weight-related health problems. A healthy or normal BMI is 19-24, while overweight is 25-29 and obese is 30 and above. For example, a 5-foot-6-inch person who weighs 117.5 pounds has a BMI of 19, while a person of the same height weighing 279 pounds has a BMI of 45.
You can calculate your BMI online.
Fat and healthy?
The findings may give pause to those who, like New Jersey Gov. Chris Christie, argue that it's possible to be both healthy and obese.
Østbye said the study was motivated partly by research published earlier this year in the Journal of the American Medical Association, using death data from several large population studies, which concluded that while higher degrees of obesity were associated with higher mortality rates, being overweight or even slightly obese was actually linked with lower mortality.
Since these findings questioned the general belief that high body mass leads to poor health outcomes, Østbye and his colleagues sought to better understand the rates of obesity-related disease, or morbidity, by measuring health care utilization and costs.
Using health insurance claims data for 17,703 Duke employees participating in annual health appraisals from 2001 to 2011, the researchers related costs of doctors' visits and use of prescription drugs to employees' BMIs.
Measuring costs related to doctors' visits and prescriptions, the researchers observed that the prevalence of obesity-related diseases increased gradually across all BMI levels. In addition to diabetes and hypertension -- the two diseases most commonly associated with being overweight or obese -- the rates of nearly a dozen other disease categories also grew with increases in BMI. Cardiovascular disease was associated with the largest dollar increase per unit increase in BMI.
The average annual health care costs for a person with a BMI of 19 was found to be $2,368; this grew to $4,880 for a person with a BMI of 45 or greater. Women in the study had higher overall medical costs across all BMI categories, but men saw a sharper increase in medical costs the higher their BMIs rose.
"The fact that we see the combined costs of pharmacy and medical more than double for people with BMIs of 45 compared with those of 19 suggests that interventions on weight are warranted," said Marissa Stroo, a co-investigator on the study.
---