---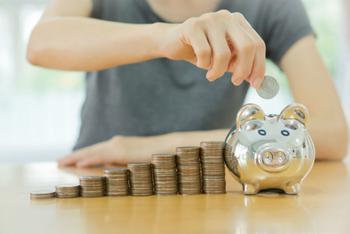 When the Federal Reserve meets later this week the odds are it will boost the Federal Funds rate for the second time since December.
Yields on government bonds have already moved higher, so what are you earning on your savings account? Probably not very much.
Most banks have yet to catch up to the interest rate curve, yet there are opportunities for savvy savers.
The personal finance site NerdWallet has looked at a wide range of data to gauge the spread between the lowest rates on savings and the highest. It estimates that if every saver got the best rate currently available, the cumulative gain in interest would total $5.6 billion. Put another way, consumers with savings accounts are leaving that much money on the table.
$274 more per year
Here's what the analysis found: a savings account with the highest yield pays $274 more per year than a low-interest account on savings of $25,000.
Even with pathetically-low interest rates, consumers are socking more money away than they did a decade ago. In 2007, savings amounted to 2.95% of disposable income. By last year, the Bureau of Economic Analysis found it had nearly doubled. Still, the NerdWallet analysts say consumers should be saving more of their income.
A way to boost savings is to save most or all of any income tax refund. The average refund is $3,120, which would go a long way toward covering an emergency expense, so you don't have to put it on a high-interest credit card.
So, what constitutes high-yield on a savings account these days? It's not what it used to be. Believe it or not, 1.10% today is considered a high rate of return on a federally insured savings account. It only looks big when compared to the paltry offerings of most passbook savings accounts, which are well below 1%.
You can find higher-yielding savings accounts by shopping around. For example, Ally Bank currently offers 1% interest on its online savings account.
Generous interest on some checking accounts
Your bank may also pay a relatively generous return on certain checking accounts. These accounts usually require you to make a certain number of debit purchases each month and have at least one direct deposit, but they can pay in excess of 2% on at least a portion of your checking account balance.
Still not impressed? Well, just wait. NerdWallet predicts rates are just beginning to go up.
"As interest rates increase, banks will want to lend more money, which means they need to incentivize consumers to deposit more money in checking and savings accounts," said Sean McQuay, NerdWallet's credit and banking expert. "As a result, soon banks will be competing for your money by offering increasingly high-interest yields."
So start saving now. The more you have in savings when rates get attractive, the more interest you'll earn.
---