---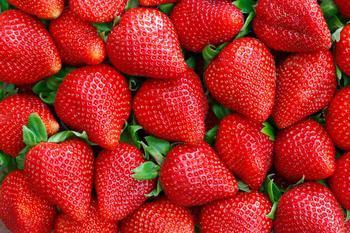 Strawberry season -- as well as National Strawberry Month -- is officially underway. Whether you buy them from the store or pick them from a field, your body is sure to thank you.
Strawberries are packed with essential nutrients, dietary fiber, phytochemicals, and antioxidants. While they're a smart snacking choice for people of any age, a new study suggests that older adults might especially benefit from upping their intake of the seed-covered fruit.
In one of the first clinical studies of its kind, USDA researchers found that incorporating two cups of strawberries per day into the diets of older adults can improve cognition.
Improved spatial memory
The study, which took place at the USDA Human Nutrition Research Center on Aging at Tufts University, looked at the effects of daily strawberry consumption over the course of 90 days.
Over this time period, 37 healthy older adults between the ages of 60 to 75 consumed either two cups of strawberries per day in freeze-dried powder form or an equal amount of a control powder containing no strawberries. Participants, otherwise, followed their normal diets.
The results of intermittent mobility and cognitive testing showed an overall improvement in spatial memory and word recognition at the end of the 90 days for those who consumed strawberries.
The research, Dietary Strawberry Improves Cognition in Older Adults: a Randomized, Double-Blind, Placebo-Controlled Trial, was first presented at the 2015 Society for Neuroscience annual meeting in Chicago.
Other benefits
As we've reported, the anthocyanins in strawberries have been shown to reduce insulin resistance. Other recent studies have concluded that the flavonoids in strawberries may help reduce inflammation in obese adults and age-related weight gain.
Clearly, there is a lot to be gained from eating strawberries -- and luckily, incorporating them into your diet isn't hard.
Strawberries are one of the most versatile fruits. They can be used in lieu of tomatos, used to make salsas or chutneys, or even roasted in the oven to create a jam. For more creative ways to get your daily serving of strawberries, check out these recipes from the California Strawberry Commission.
---