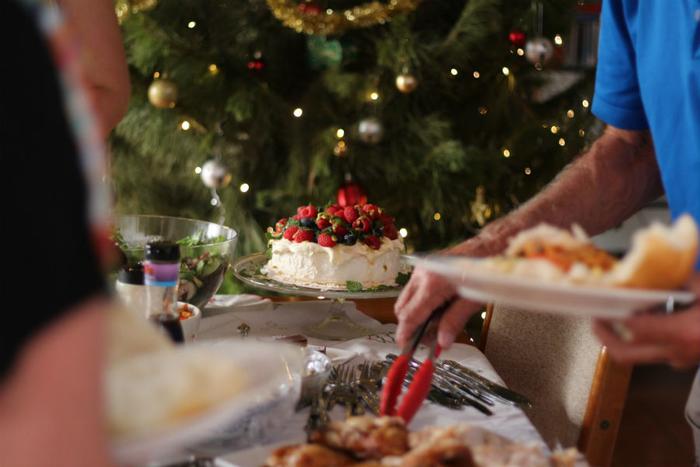 Amid an endless string of holiday parties and food-filled celebrations, it can be all too easy to veer off course with regard to diet and nutrition. But in order to avoid the post-holiday bulge, it's important to make sure you don't overindulge.
The average person puts on about a pound from November to January. While it might not seem like a lot, that extra pound can linger -- sometimes well into the next year.
Research shows some of the weight people tend to gain over the holidays isn't lost until five months later –and some people don't shed their winter weight the following year. In the case of the latter, holiday weight gain can continue to accumulate year after year.
To avoid starting the New Year off with weight to lose, nutrition experts recommend making a plan to help yourself avoid extra sweet treats and rich meals around the holidays. Here are a few tips to help you do just that.
Eat before the party
Eat healthy in the hours leading up to the holiday party you plan to attend. The Academy of Nutrition and Dietetics recommends focusing on lean protein, whole grains, and simply prepared fruits and vegetables.
And make sure you eat enough. Consuming too few calories in hopes that it will give you leeway to indulge later is a bad idea, experts say. Similar to grocery shopping on an empty stomach, showing up to a party hungry can result in going overboard on food.
Count your drinks
It's no secret that alcoholic beverages are full of calories. If you're trying to maintain your ideal weight, go easy on alcohol -- especially if you have more than one social gathering to attend per week.
"If you choose to consume alcohol this holiday season, opting for a light beer or a glass of dry wine, which comes in at about 100 to 150 calories, is a far better option and contains less sugar than homemade cider or a seasonal beer, which can often have as many as 200 calories per drink," Courtney McCormick, Corporate Dietitian at Nutrisystem, told ConsumerAffairs.
Keep a tally in your head of how many drinks you have had, or use a calorie-counting app. To pace yourself and stay hydrated, have a glass of water between drinks.
Choose healthy options
If you're not confident there will be a healthy holiday dish available at the party, bring your own. Cauliflower Mashed Potatoes can be a nice swap for a traditional Mashed Potato dish, McCormick said.
Be sure to load up on healthy food options (like fruits and vegetables that may be set out as appetizers) first, even if that doesn't leave much room for the main course. Avoid reaching for too many calorie-dense appetizers, like mixed nuts or mini hot dogs.
While eating healthy is the goal, you don't have to forgo holiday treats altogether. Lindsey Joe, a registered dietitian and nutritionist has one key rule for holiday parties: "eat what you love, leave what you like." Avoid nibbling on food that doesn't give you true enjoyment.
Be social
Another way to keep yourself from overeating? Socialize–and do so away from the buffet or appetizer trays to minimize unconscious snacking.
Spending the party socializing can help you avoid the temptation to eat too many diet-sabotaging foods. If you're still hungry after the party, you can always get a healthy snack or meal at home.