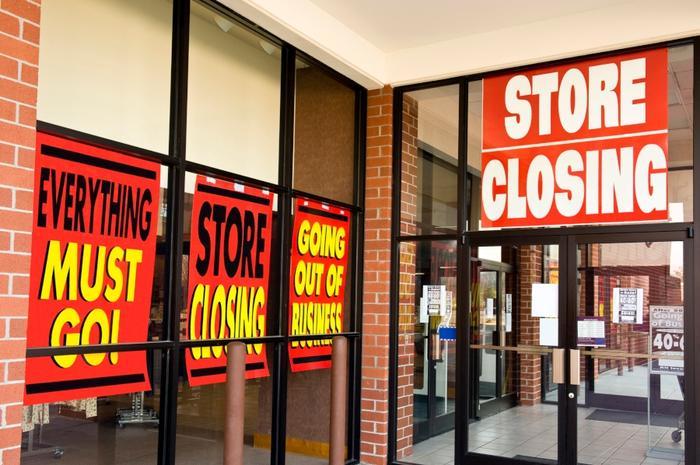 On Amazon's Prime Day, it may be fitting to report that the closing of brick and mortar stores in the U.S. is picking up momentum in 2019.
While not completely attributable to a growing shift in consumer preferences to online shopping, there is no doubt that the decline of physical stores has coincided with that trend. 
At the halfway point in the year, store closings -- including announcements -- are up 20 percent over all of last year. The latest report from Coresight Research estimates that at least 7,000 stores will close their doors this year, with thousands of others already dark and deserted.
The numbers are likely weighted by one retailer -- Payless ShoeSource -- which makes up nearly 40 percent of the store closings. The bankrupt retailer closed the last of its stores in early July.
"So far this year, US retailers have announced 7,062 store closures and 3,017 store openings," the research company wrote in its report. "This compares to 5,864 closures and 3,258openings for the full year 2018."
12,000 gone by the end of 2019
Coresight Research said it expects the total number of U.S. store closings to exceed 12,000 by the end of this year.
Much of that business continues to go to Amazon, which launched a mid-July shopping day of deals in 2015 to celebrate its 20th anniversary. The deals are only available to members of Amazon Prime, and the promotion is aimed at increasing Prime memberships as much as moving merchandise.
Rivals Walmart and Target have launched their own online promotional events offering deals that don't require a membership. But it has all combined to encourage consumers to spend money online instead of in stores.
As we reported in April, UBS analysts predict 75,000 more stores will likely close their doors over the next seven years if online shopping continues at an aggressive pace.
In a note to clients, UBS noted that online channels such as Amazon are expected to grow their share of the retail sales pie from its current 16 percent to 25 percent by 2026. If that happens, as expected, it would force the closing of 75,000 retail stores.
To date, specific brands have borne the brunt of the retail apocalypse. In addition to Payless, Sears has closed hundreds of stores. It plans to reboot under Eddie Lampert's ownership with about 400 locations.