---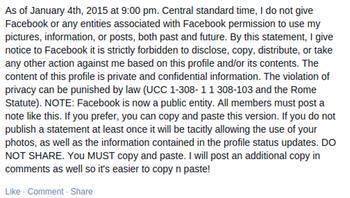 If you've checked your Facebook account in the past couple of days then you've probably noticed a sudden sharp uptick in the number of official-sounding "copyright notices" appearing on your feed. Here's a typical example, which appeared on mine:
As of January 5th, 2015 at 6:20 a.m. Eastern standard time, I do not give Facebook or any entities associated with Facebook permission to use my pictures, information, or posts, both past and future. By this statement, I give notice to Facebook it is strictly forbidden to disclose, copy, distribute, or take any other action against me based on this profile and/or its contents. The content of this profile is private and confidential information. The violation of privacy can be punished by law (UCC 1-308- 1 1 308-103 and the Rome Statute). NOTE: Facebook is now a public entity. All members must post a note like this. If you prefer, you can copy and paste this version. If you do not publish a statement at least once it will be tactically allowing the use of your photos, as well as the information contained in the profile status updates. DO NOT SHARE. You MUST copy and paste.
(As a general rule, anytime you see anything on Facebook claiming either "you MUST do this" or "YOU MUST NOT" do that, lest something horrible happen as a result – that's either a hoax or a scam.)
You might also have seen a longer version of this post, which instead of starting with a specific time and time zone starts out with this statement: "In response to the new Facebook guidelines, I hereby declare that my copyright is attached to all of my personal details, illustrations, comics, paintings, professional photos and videos, etc. (as a result of the Berner Convention)...."
Don't even bother
Don't bother sharing this notice – or cutting and pasting it, either. It's a hoax – there are no new Facebook rules (or old ones, either) requiring members to share or copy any specific posts, nor any special privileges or protections which Facebook account holders enjoy in exchange for making certain posts. And Facebook, for all its various flaws and annoying, oft-changing policies, does not impose super-secret policy changes which can nonetheless be avoided – but only if you post a particular paragraph chockful of legalese on your Facebook wall (or anyone else's).
Legal eagles (or people who know how to use online search engines) will also note that there's no such thing as a "Berner Convention," although there is a Berne Convention involving literary copyright law. The Berne Convention does not require people with accounts on Facebook or any other form of social media to copy and paste any particular posts, either.
If you post any variation of this notice on your Facebook wall, whether by "sharing" it or as a copy-and-paste, you will not derive any particular copyright protections for yourself; you'll only annoy your other friends on Facebook.
---