---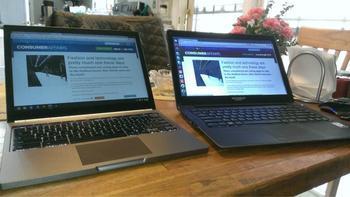 Consumers who mostly use their computers for email, social media, games and web browsing have been migrating to tablets lately, which is understandable.
But for the working stiffs who use laptops for professional purposes -- writing, editing, programming, moderating and so forth -- a tablet doesn't really do the job.
Fortunately, there is the Ultrabook -- the super-thin, super-powerful laptop developed by Intel and now being produced under all the usual computer brand names. The Ultrabooks feature a slimmed-down physical profile, super-sharp displays, fast processors and long battery life. Most are powered primarily by solid-state drives instead of the clunky old hard drives, which makes them boot up lightning fast and load programs in the blink of an eye.
But let's face it -- you still have to be able to type on them. And if you use your Ultrabook for work, you have to be able to type quickly and accurately. Unfortunately, this is a little something that has evaded the notice of many of the biggest names in computerdom.
Worst ever ...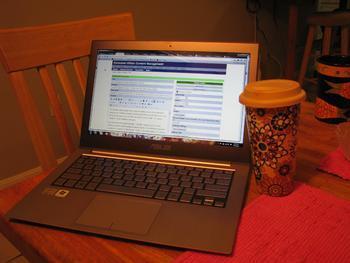 A few months back, I tested Asus' take on the ultrabook, dubbed the Asus Zenbook. It was gorgeous. Clad in a shiny metal case with a stunning display and superquick solid-state drive, it was a marvel to behold.
But it was hell to type on. It was about as much fun as a 1949 Royal typewriter that someone had spilled maple syrup into. As I said in our review, generously titled Worst Laptop Ever, it might be great for lots of things but for typing -- forget it.
I was overjoyed to see the end of the Asus and gleefully dropped it off at the Federal Express office..
We then spent some time doing what Best Buy hates more than anything. We wandered around their stores "showrooming" other Ultrabooks. Many were attractive, some were affordable but none really seemed up to the task of having someone pound on their keyboard 10 or 12 hours per day.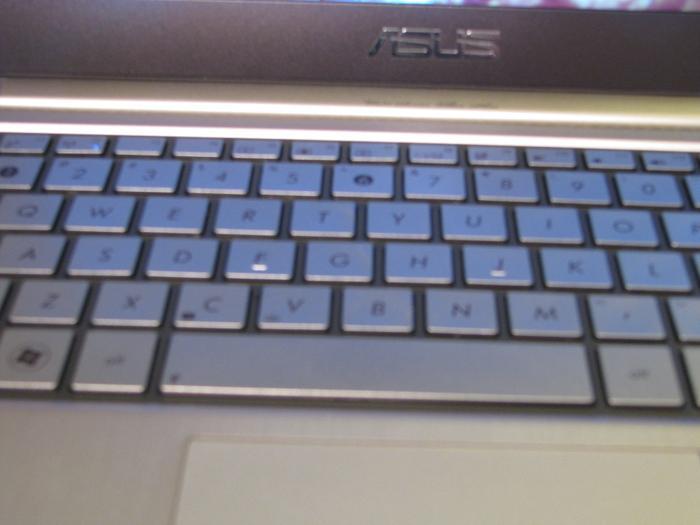 Off the beaten path ...
So I decided to try the road less traveled and wandered over to Zareason.com, a small California company that builds Linux machines. I've used Linux for years and found it far superior to Windows and Apple's various OS versions.
It's not really necessary to buy a machine with Linux pre-installed, as it's quite easy to install it yourself on nearly any machine. But I wanted to test Zareason's "It just works" motto, so took the plunge and ordered the $899 UltraLap -- basically the same hardware as other Ultrabooks but with a Linux operating system.
Upon arrival, it had a somewhat pedestrian appearance -- a metal case on top but plastic elsewhere. I fired it up and, as expected, it booted swiftly into Linux, being fully up and operational from a cold start in 13 seconds.
Technically, it was superb. The combination of the solid state drive, the Ubuntu Linux OS and 8 gigs of memory made it a blazing-hot contender. Ah, but the keyboard. It was mediocre for the first few days but quickly turned unusable.
The touchpad also left a lot to be desired. Trying to left-click with the keypad was impossible. The cursor invariably jumped up just enough to miss whatever it was you were trying to click on, requiring a two-handed maneuver to hold down the Control button while clicking. The sound stank and the built-in camera produced upside-down video.
I complained about the keyboard, not revealing my ConsumerAffairs affiliation, and Zareason sent me a new one, although it took them more than a week to do so. It wasn't a better keyboard, mind you, just a newer one. In a few weeks, it was close to unusable as well.
Battery life on the Zareason was good, hitting five hours without difficulty.
But between the keyboard and the touchpad, I found myself lugging an external mouse, keyboard and headset (to make up for the inaudible audio) around with me, which is not exactly the idea behind the laptop concept.
Great machine, bad ergonomics. So earlier today, I said farewell to the Zareason and once again motored happily away from the FedEx office.
Pixelated
In its place on the hotseat at the moment is a Google Chromebook Pixel -- Google's attempt to show that it can build hardware that rivals anything from Apple or anyone else.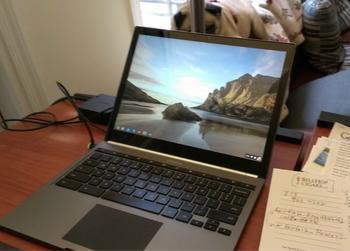 After a week of mistreating the Pixel, I have to say it is the finest piece of portable computer hardware I've encountered. If the Asus was a Toyota and the Zareason a Fiat, the Pixel is a Porsche Carrera. It is such a thing of beauty that I have been using it exclusively, letting my ridiculously powerful and over-monitored desktop sit idle.
The keyboard is solid and precise and despite my apparent tendency to pound mercilessly on it, it produces almost perfect results. More importantly, I can type at my usual 80 or so words per minute instead of the 20 or so I was reduced to with the other machines.
The touchpad uses the one- and two-finger motions becoming popular on high-end machines and does it so well that I find I don't need or miss an external mouse.
The display, which Google says has even more pixels (239 per inch) than the MacBook Pro Retina (227), is stunning -- very bright and sharp, another important consideration for content slaves who are stuck looking at their screen all day. The Pixel also looks good, with an anodized aluminum case that acts as a heat sink, eliminating the need for air vents and noisy fans.
Battery life is outstanding. I have gotten six hours out of it and there were still some fumes in the tank when I decided to plug it in.
The sound is startling -- loud and crisp with a very pronounced stereo effect. The onboard video camera produces a big clear image, and it's even right-side-up.
Webcentric
Many reviewers have trashed the Pixel, and other Chromebooks, because they are "webcentric," meaning they run apps from the web rather than programs stored on the machine. OK, that's true, but so what? Google Docs is not all that different from Microsoft Word, other than being free.
I was a little concerned about finding a decent online graphics program but it turns out there are several good ones, my favorite at the moment being Sumopaint. It's not Photoshop but it is, as we say here in the D.C. area, good enough for government work.
I had no set-up problems with the Pixel. It started up out of the box in 14 seconds and I was tapping away happily in no time. Whether this would be true for everyone, I'm not sure. I have used Chromebooks before and have been using Linux for a decade or two (the Chrome OS is based on Linux) so nothing about the Pixel was unfamiliar to me. Others might need a little more break-in time.
It's true that, at around $1,500, the Pixel is expensive, a few hundred more than the Zareason, about the same as the Zenbook and in the same ballpark as a Macbook. However, it's really aimed, I think, at users for whom it is the tool of their trade and who therefore don't mind spending a few extra bucks upfront to keep their productivity and sanity at acceptable levels.
As far as comparing it to a MacBook, I wouldn't be so presumptuous. The MacBooks are made with graphic designers and video editors in mind, as far as I can tell. They can run specialized software the Chromebook can't, so if that's something you need, then you're at Apple's mercy, at least for now.
I haven't mentioned the Pixel's touchscreen. To me, it's like the Porsche Carerra speedometer that goes up to 175 miles per hour. Nice to have but not often used. Critics have said the Pixel touchscreen doesn't do much and they're right. But I suspect that it will pick up new capabilities as Google continues to fool with the operating system, which is automatically updated on a regular basis.
Check back in a year or two and I predict the Pixel's touch screen will be doing all kinds of things we haven't thought of yet.
So, the verdict? The contest never really ends but for me at this particular moment, the Chromebook Pixel wins hands-down. For those who aren't chained to their keyboard all day, a plain old Chromebook for $300 or so would probably suffice.
---
Disclosure: Everything reviewed in this article was purchased at full retail price. No promotional considerations or freebies changed hands.
---