---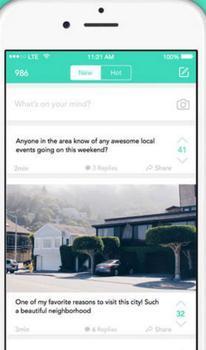 If you haven't heard of Yik Yak, it's a "hyperlocal" app that lets users post anonymously to other users in a specific area. It has gotten a bad rap from college administrators and others because it has been used to post threats and racial slurs.
But a study by University of Florida researchers finds it may not be as bad as all that. Writing in the journal Computers in Human Behavior, the UF researchers say they didn't find much of that kind of activity in their study.
"Our analysis was brief and focused on a specific point in time -- not enough time to make an accurate representation of postings on Yik Yak," said Erik Black, Ph.D., an assistant professor in the UF College of Medicine's department of pediatrics and lead author of the paper. "But the most intriguing finding with this study is we didn't see what we expected to see."
"There was definitely profanity and some aspects that would make anyone uncomfortable -- but those aspects weren't in any way worrisome since the profanity wasn't directed at anyone," said Lindsay Thompson, M.D., a physician in the department of pediatrics and co-author of the paper. "I think having a healthy skepticism is appropriate. But in this situation, among college students, fears and moves toward censorship would be unfounded."
Worrisome posts
A "worrisome" post would be one that could cause an individual to be singled out for abuse or ridicule, Black and Thompson said. 
The researchers defined "worrisome" postings as any yaks that could cause an individual to be revealed. Otherwise, Black and Thompson felt they could not label any particular posting as worrisome primarily because they lacked the understanding of the yak's context on that campus.
Social media in general offer the opportunity for users to post comments anonymously that they might not make in person. The researchers said that while Yik Yak is no different in that respect from other social media, they found few instances in which yaks included the full name of the person being discussed.
"We're not condoning the type of rhetoric we see on the application. Profane, racist and misogynistic language is not OK," Black said. "Yik Yak may provide the opportunity to pull back the proverbial covers on underlying sentiment on campuses."
---