---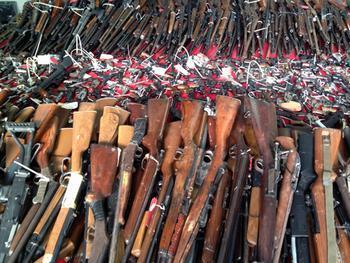 In the aftermath of the murders of students and their teachers at a Connecticut elementary school, a number of states are taking action to prevent a similar occurrence at school in their state.
Texas Attorney General Greg Abbott checked the list of Texas school not in compliance with the state's safety standards. While he was happy to see the list of 78 school had fallen to 38, he ordered those remaining non-compliant schools to immediately take action.
In New Jersey, Attorney General Jeffrey Chiesa reports a gun buyback event had been scheduled for last Friday and Saturday in Camden County. Residents who had firearms they no longer wanted or felt comfortable keeping in their homes could turn them in for cash.
Outpouring
Perhaps because of the tragic shooting on Friday morning, New Jersey collected 1,137 firearms -- a record in the state.
"I am not suggesting that gun buybacks are some sort of magic solution to the complex and multi-faceted problem of violence in our society," Chiesa said during a press conference at Camden Police headquarters where all of the buyback guns were on display. "But we have to keep forging ahead using all of the strategies at our disposal. And while we're at it, we have to keep thinking about new strategies as well. Here in New Jersey, inaction is not an option."
Ohio and Oregon have recently experienced their own encounter with gun violence. In February, a young man killed three people in the school cafeteria at Chardon, Ohio, High School. After Friday's Connecticut shootings, Ohio Attorney General Mike DeWine released a copy of the guidelines that his School Safety Task Force created to help Ohio schools comply with the requirements to submit building plans and a school safety plan to his office.
Making schools safer
"After the Chardon shootings earlier this year, we put together a School Safety Task Force to further study the issue and come up with practical ideas to help schools," DeWine said. "One of the ideas that came from the task force was creating a set of guidelines that can be used to help schools who may not know what information to submit."
The wounds of violence are fresher in Oregon, where just three days before Newtown a gunman went on a shooting rampage at a mall that killed two shoppers and wounded others. Oregon Attorney General Ellen Rosenblum said her office is offering emergency financial compensation to help pay for counseling for people who were at the mall during the Dec. 11 shooting rampage.
"It's hard to imagine the trauma and terror of witnessing a masked gunman indiscriminately firing an automatic weapon through a mall full of holiday shoppers," Rosenblum said. "Our Crime Victims Services Division is well positioned to get people the help they may need."
---