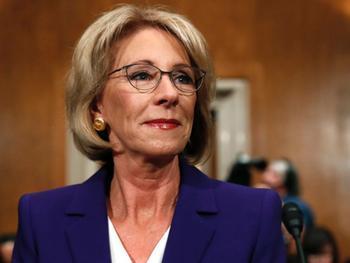 Eighteen states and the District of Columbia have filed suit against Education Secretary Betsy DeVos over her delay of regulations meant to provide new protections for federal student loan borrowers, particularly those at for-profit colleges.
"The Trump Administration should do everything in its power to protect our students,"said California Attorney General Xavier Becerra, one of those joining the action. "At the California Department of Justice, we will continue working to ensure that all who seek higher education can do so without worrying that their American Dream will be stolen by unscrupulous purveyors of a sham college education. These regulations should be implemented because they're good for students and because that's what the law requires."
The lawsuit accuses DeVos of illegally delaying the regulations, known as the "Borrower Defense Regulations." They were set to take effect on July 1, but DeVos announced last month that the Department of Education would refuse to implement them as part of a "regulatory reset" while looking to develop alternative regulations that would likely leave victimized borrowers with far less protection.
Becerra said the refusal is a violation of the Administrative Procedure Act because the Department improperly relied upon a legal challenge to the regulations as a basis for delay and also failed to provide the public with the required notice and opportunity to comment on the delay.
Echoes of Corinthian
Becerra noted the case of California-based Corinthian Colleges, accused of targeting low-income, vulnerable individuals through false advertisements that misrepresented job placement rates and the value of school programs.
The Attorney General's Office obtained a $1.1 billion judgement against Corinthian on March 26, 2016, and worked with the Obama Administration to ensure that tens of thousands of former Corinthian students were entitled to federal student loan relief. The process led to the creation of the Borrower Defense Regulations, which provide for:
Automatically canceling eligible loans for students who were defrauded;
Taking greater steps to ensure a school's financial viability; and
Banning schools from including or enforcing certain arbitration provisions or class-action waivers in their enrollment agreements.