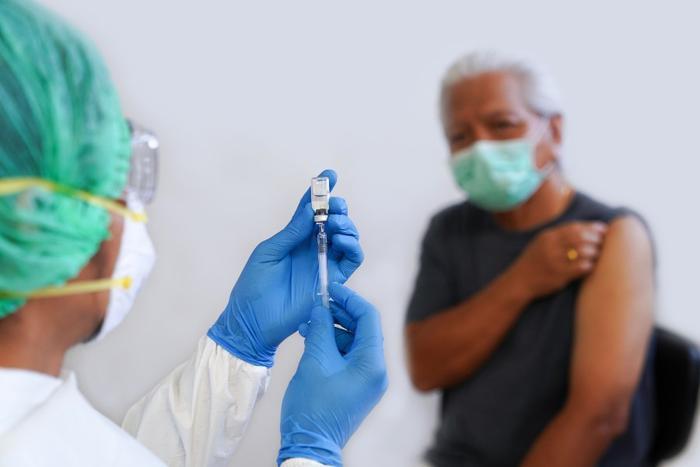 Health and Human Services Secretary Alex Azar is urging states not to waste any time distributing COVID-19 vaccines to older Americans and vulnerable groups. 
On Wednesday, Azar said states should focus on vaccinating these citizens as quickly as possible rather than "micromanaging" their coronavirus vaccine supply. He said states do not, for example, have to vaccinate all health care workers before moving onto vaccinating lower-priority groups that are also vulnerable.
"There is no reason that states need to complete, say, vaccinating all health-care providers before opening vaccinations to older Americans or other especially vulnerable populations," Azar told reporters during a briefing.
"It would be much better to move quickly and end up vaccinating some lower-priority people than to let vaccines sit around while states try to micromanage this process," Azar said. "Faster administration could save lives right now, which means we cannot let the perfect be the enemy of the good."
Some overlap in groups likely
People in the 65 and older age group have been particularly hard hit by the COVID-19 pandemic. Although the Centers for Disease Control and Prevention (CDC) has recommended prioritizing health care workers and nursing home staff and residents, health officials say states should ultimately decide who should be first in line for vaccines. 
"If they are using all the vaccine that is allocated, ordered, distributed, shipped and they are getting it into health-care providers arms, every bit of it, that's great," Azar said. "But if for some reason their distribution is struggling and they are having vaccine sit in freezers, then by all means you ought to be opening it up to people 70 and older."
The Advisory Committee on Immunization Practices (ACIP) has previously said that there would likely be some overlap between phases in the COVID-19 vaccine distribution timeline. Azar said Wednesday that providing some "flexibility" around who receives the first doses is the best course of action for states right now.