---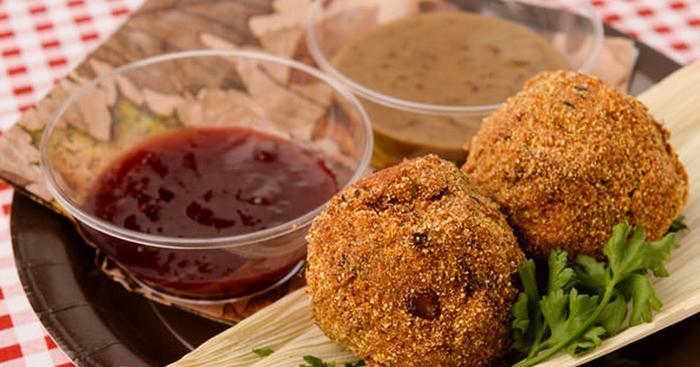 Anything is fair game when it comes to food at the state fairs and this is fair season for most of the country.
Some fair food trends of recent years include deep-fried everything, bacon-wrapped meat, foods on a stick, gourmet versions of comfort food (think "mac-and-cheese croquette"), and new takes on old favorites, like Pepsi-infused funnel cakes. Any remake on a stick seems to have been a big hit.
Some of the many decadent, over-the-top new foods that debuted at state fairs in 2013 include:
Deep-fried brownie on-a-stick

Bacon-wrapped riblet on-a-stick

Funnel cake sundae

Fried pickles 'n' chocolate

Candied bacon cannoli
So what has 2014 rocked our guts with?
At the 2014 Florida State Fair, one of the first state fairs of the year, The trends were set with burgers that seemed to be the new food to reinvent. The Iowa state fair and Minnesota state fair followed suit. Here are some things on the try-it-at-least-once list:
Ramen noodle burger (burger on bun made of ramen noodles)

Tornado dog (hot dog wrapped in spiral-cut potatoes and deep fried)

Bacon maple funnel cake

Healthier burger (soy burger on whole wheat bagel thin)

Cotton candy funnel cake
What about gluten-free?
Celiac support groups in Iowa got together and made a virtual spreadsheet for fair-goers to sort through gluten-free choices like a jumbo marshmallow on a stick.
Iowa's not the only state to put gluten on a stick. Minnesota had a local group that whipped up a gluten-free beer-battered brat. Gluten or not that fried stuff slides down the same ole way.
We suggest avoiding any fair rides until you digest your fried whatever it is you just ate.
---