---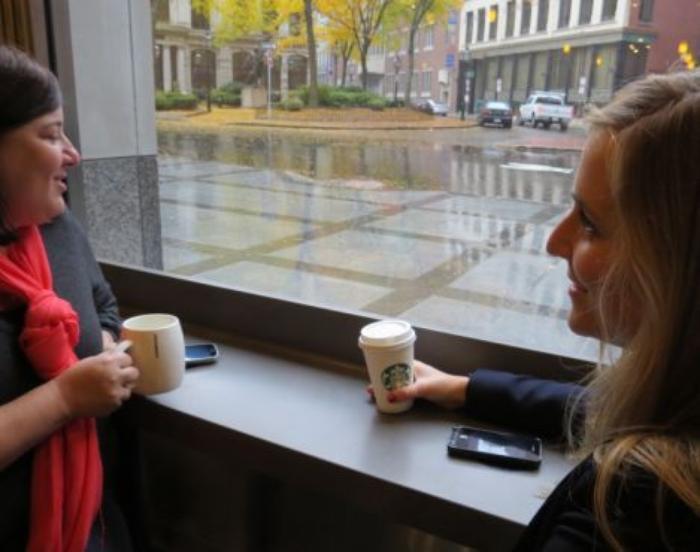 People stop in at Starbucks to recharge. That's getting a bit easier with the addition of wireless smartphone recharging areas, rolling out currently in the San Francisco area and expanding to major national markets in 2015.
Rollouts to smaller cities are "planned over time," the company said.
The charging areas will be powered by Duracell Powermat, which recharges compatible smartphones and other small electornics devices wirelessly.
How many smartphones are compatible? Good question.
Exact figures aren't available but Bloomberg News says "very few" phones have cordless charging technology built in. Apple sells cases that will make an iPhone Powermat-compatible. AT&T, Sprint and Verizon all sell phones that are compatible with different types of wireless charging.
Nice idea
Starbucks, of course, wants customers to show up more often and linger longer, which is why it's always tinkering with its menu, redecorating stores and, in perhaps its most influential innovation, adding free wi-fi years ago.
Starbucks will be the biggest rollout of Powermat, so that may in itself be enough to incentivize phone manufacturers to start building the technology into their devices.
"Rather than hunting around for an available power outlet, [customers] can seamlessly charge their device while enjoying their favorite food or beverage offering right in our stores," said Adam Brotman, chief digital officer at Starbucks. "We were pleased with the customer response to the pilot tests, and we're now expanding this offering nationally to provide our customers a quality and reliable experience as they use our stores as their respite, their office away from home or as a gathering place with their friends and family."
Stores will be equipped with "Powermat Spots" -- designated areas on tables and counters where customers can place their compatible device and charge wirelessly. Select Starbucks stores in Boston and San Jose offer Powermat today and the broader rollout can be tracked at www.powermat.com/locations.
"Powermat Spots in Starbucks are the result of almost a decade of scientific research spanning material sciences, magnetic induction and mesh networking," said Ran Poliakine, CEO of Powermat Technologies. "The two-pronged power-plug dates back to the era of the horse drawn carriage, so that today's announcement marks the first meaningful upgrade to the way we access power in well over a century."
---