---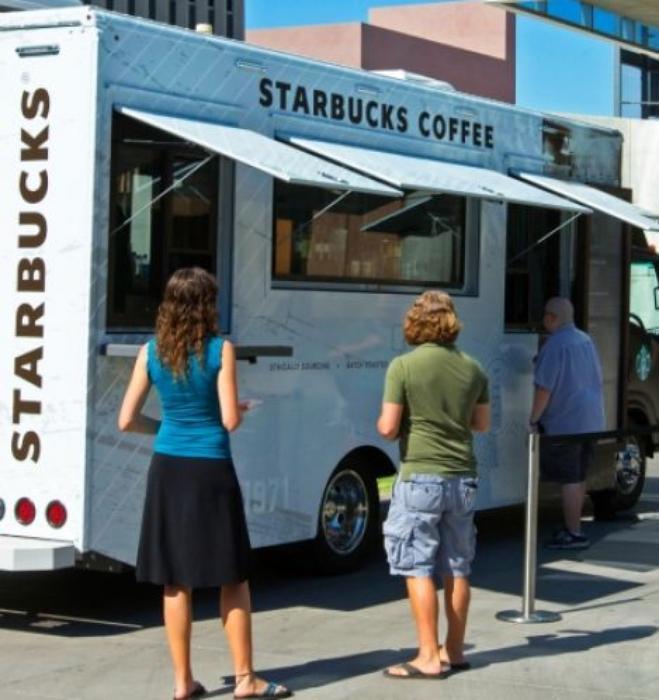 If you're already wondering how you're going to pay off those student loans you (or your offspring) are racking up, this may not be good news: Starbucks is merging into the food truck lane, starting with college campuses.
The ubiquitous purveyor of high-priced drinks, snacks and condiments rolled its first truck onto the campus of Arizona State University this week and plans to expand to two additional schools soon.
To hear Starbucks tell it, the trucks are creating quite a buzz -- above and beyond the buzz a couple of grande triple lattes will provide.
"People are surprised to see it, and then they're excited," said Ike Van Skike, district manager for Starbucks licensed stores in a press release hand-crafted by the Starbucks publicity baristas. "ASU faculty and staff tell me this is great for them because it's an area of the campus that doesn't have a lot of food service."
The truck offers a menu of drinks and food nearly identical to what customers would find in their neighborhood Starbucks stores, thus making it easier to eat and drink the same thing all day every day.
As one would expect, the truck can move to various locations on campus throughout the day. The mobile truck, as Starbucks refers to it -- apparently hoping to differentiate it from stationary trucks -- is operated through Aramark, a giant food service company.
In addition to ASU, Starbucks trucks will roll onto the James Madison University campus in Virginia on August 25 and Coastal Carolina University in South Carolina on September 18.
---