---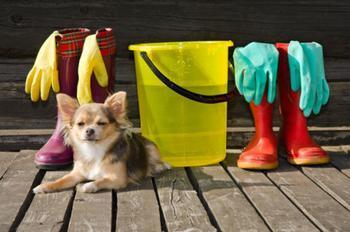 When the light of the springtime sun hits the inside of a pet owner's home, they may suddenly see some pet-related messes to be cleaned. But whether you're eradicating a thin layer of pet fur or just giving the house an annual deep clean, it's important to be mindful of the fact that some cleaning products may pose a health hazard to dogs.
Due to their faster metabolisms and smaller lungs, animals are more vulnerable than humans to the effects of chemical-filled sprays and bleaches. Using traditional household cleaning products may put dogs at risk.
However, having pets and keeping a clean house don't have to be mutually exclusive. There are many ways to get a home looking sparkling clean without the use of chemical-based cleaning products.
Alternative cleaning methods
To help ensure your pet stays free of the effects of indoor air pollution, be sure to follow these tips from the pet experts at DogVacay.
Go organic. Instead of using harsh chemicals, go the organic route with cleaning products that are non-toxic as well as pollutant and chemical-free. Opt for dog-safe brands, like Zabada Clean and Natural Chemistry.
Read the labels. Just because a label includes the word "organic" doesn't mean it's automatically safe. Be sure to check ingredient lists and product reviews before purchasing a product. Steer clear of cleaning products with multisyllabic, difficult-to-pronounce ingredients (such as 2-Hexoxyethanol).
Don't use bleach. Bleach can cause animal convulsions, nausea, and vomiting. For pet owners, a good alternative to bleach is lemon juice. Try tossing one-quarter cup of lemon juice into your laundry. It'll whiten clothes just as well as traditional bleach (and it'll smell much better). For sink stains, try baking soda and lemon juice.
Skip the ammonia. Ammonia can burn a dog's membranes. When mixed with bleach, it creates a poisonous gas that can be deadly to dogs, especially to smaller breeds which are especially vulnerable. Vinegar, on the other hand, is a safe and effective alternative to traditional window and kitchen cleaners. Try filling a spray bottle with a one part water to one part vinegar combination to shine up surfaces.
---