---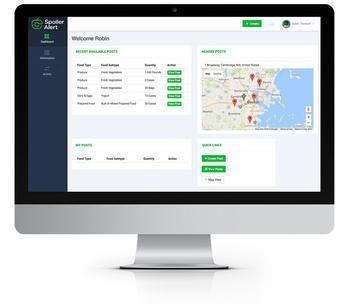 Here in the U.S., an estimated 40% of food goes uneaten. Now, a new startup called Spoiler Alert is making strides toward mitigating the problem of food waste and hunger in America. Aiding its efforts: a partnership with Sysco corporation and $2.5 million in funding.
The Boston-based company is seeking to reduce waste by helping food and beverage companies make use of their leftovers. Making mutually beneficial connections -- for instance, by helping a food producer coordinate with a food bank -- is one way Spoiler Alert prevents food from going to waste.
It coordinates these connections using cloud-based software, CEO Ricky Ashenfelter recently told TechCrunch. "We offer the relevant accounting and reporting systems to capture tax benefits and document important financial, environmental, and social metrics," Spoiler Alert explained on its website.
Selling imperfect produce  
The platform also aims to keeps cosmetically imperfect, but otherwise good, produce from ending up in landfills. Consumers might not naturally reach for "ugly" produce, but some companies (such as juice or soup makers) don't need perfect-looking fruits and vegetables in order to make their product.
Spoiler Alert is essentially a "secondary marketplace for wholesale food," Ashenfelter said, adding that the company will use its recently-raised funding to put its services on the radars of food producers and nonprofits in every major, metropolitan area in the U.S.
The CEO said he hopes Spoiler Alert will eventually help food and beverage companies get rid of organic waste in every sustainable way possible. He also hopes to obtain the resources to allow prepared food from restaurants and catering services to be donated instead of thrown out. 
---