---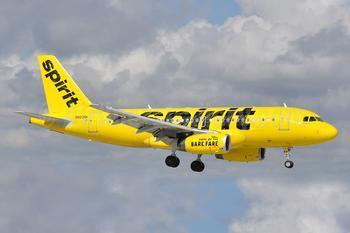 Major airlines have been fiddling with their rewards programs, changing them to award points based on spending rather than miles. Budget carrier Spirit Airlines is taking a different tack in August -- awarding more miles to those who spend less.
"We want to fly in the face of changing loyalty programs and reward customers for saving money, not spending it," Bobby Schroeter, Spirit's vice president of consumer marketing, said. It's called the "Save More, Get More" promotion.
Throughout August, Free Spirit members will earn 1,000 bonus miles for flights in which the base fare is $75 or less. Spirit will award 500 bonus miles for flights that cost between $76 and $125. The ultra-low-cost carrier will award 125 bonus miles to those who purchase tickets that cost between $126 and $150.
The bonuses are increased to 2,500 miles, 1000 miles and 500 miles, respectively, for members of Spirit's $9 Fare Club.

The bonus miles will be awarded on top of the normal Free Spirit miles that members earn for a flight. Free Spirit members are awarded one mile for every two miles that they fly, while elite members are awarded on a mile-for-mile basis.
Interested participants can visit here to register for the campaign and book a flight.
---