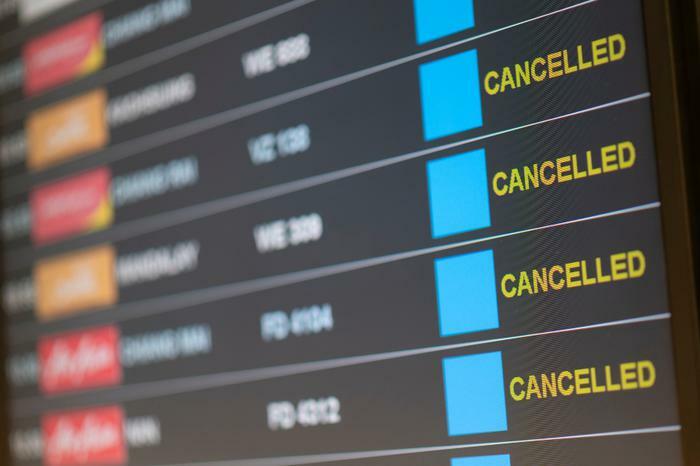 Southwest Airlines canceled or delayed close to 2,000 flights over the weekend and is beginning the week with close to 10% of its flights canceled as of late Monday morning. When everything was added up, FoxNews reported that Southwest had canceled 808 flights and had 1,187 flights delayed on Saturday, then another 1,018 flights canceled and 597 flights delayed on Sunday.
The airline put the onus for the cancellations on three things: bad weather, air traffic control problems, and staffing issues. Southwest pointed the finger at the pandemic for the snowballing issues, telling CNN that getting operations back to normal was "more difficult and prolonged" because of schedule and staffing reductions made during the COVID-19 upheaval.
"We've continued diligent work throughout the weekend to reset our operation with a focus on getting aircraft and crews repositioned to take care of our customers," the airline said in a statement.
The Federal Aviation Administration (FAA) countered Southwest on the air traffic issue. The agency told CNN that there have been no air traffic-related cancellations since Friday, and it said if any airlines are experiencing delays, it's due to aircraft and crews being out of place.
"Flight delays and cancellations occurred for a few hours Friday afternoon due to widespread severe weather, military training and limited staffing in one area of the Jacksonville Air Route Traffic Control Center," the FAA said.
Were other airlines impacted in the same way?
By all accounts, Southwest may be the only airline that's enduring a large volume of flight delays and cancellations. According to CNN and FlightAware, other airlines experienced far fewer issues. On Sunday, American Airlines and Southwest's low-budget competitor Spirit canceled only 2% of their flights.
However, staffing issues aren't just a Southwest issue. Other airlines have felt the pinch, and that likely has raised the frustration levels of travelers. One industry analyst warns travelers that hiring is a problematic task for airlines, especially given the layoffs and revenue hits the industry took during the pandemic.
"The shortage in labor across the industry could place travel providers at risk of not being able to bring back capacity fast enough to meet demand, which could lead to a loss in revenue," Jason Guggenheim, Boston Consulting Group's global head of travel, told Skift. Guggenheim was then asked why airlines can't fix this labor supply-and-demand disconnect by simply offering higher wages? He said it's not that simple.
"Travel companies are and will pay more to bring back the right amount of labor, but demand is still volatile and so ensuring they bring back labor thoughtfully is critical for their cost structure and ability to generate positive margins and cash flows," Guggenheim said. "Almost every travel company has a weaker balance sheet now relative to pre-pandemic, placing a greater emphasis on producing positive cash flow and slowly reducing the burden of a weakened balance sheet."