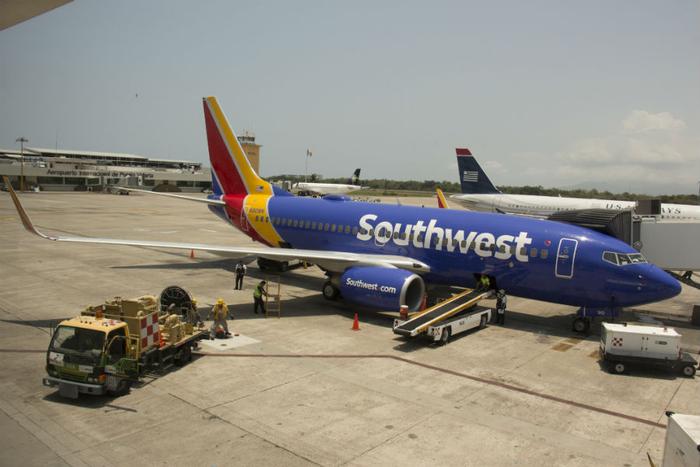 Travelers returning home on Sunday on Southwest Airlines encountered a few delays as the carrier cancelled about 40 flights for engine inspections.
In a statement, Southwest said the flight disruptions were the result of its decision to step up its ongoing engine fan blade inspection program, looking for signs of metal fatigue. An engine blade separated from an engine in mid-flight last Tuesday, killing a passenger aboard Southwest Airlines flight 1380.
"We have minimized flight disruptions this past week through actions such as proactive aircraft routings to cover open trips, performing inspections overnight, and utilizing spare aircraft, when available," the company said.
"On Sunday, we only canceled about 40 flights due to fan blade inspections out of a planned schedule of almost 4,000 flights. The cancellations are minimal -- roughly 1 percent of scheduled flights."
Delays not related to FAA order
The airline stressed that the flight disruptions had nothing to do with the Federal Aviation Administration's (FAA) Emergency Airworthiness Directive that requires airlines flying planes using the CFM56-7B engine to inspect those engines within 20 days. Southwest said its existing inspection program "meets or exceeds" the requirements set out in the FAA directive.
The CFM56-7B is a commonly used engine on a Boeing 737, which makes up the Southwest Airlines fleet.
In the immediate aftermath of last week's accident, Southwest said it would accelerate its own engine fan blade inspection program. The initial investigation of last week's accident revealed that a titanium blade from one of the Boeing 737's engines separated and shattered a window, gravely injuring the passenger sitting next to it.
The accident occurred about 20 minutes after the jet took off from New York's Laguardia Airport on a flight to Dallas. The pilot made a heroic emergency landing at Philadelphia as passengers fought to keep the injured passenger from being sucked out of the plane. The passenger died at a Philadelphia hospital.
Southwest says the voluntary inspection program will continue this week and may affect operations. It advises travelers to visit Southwest.com frequently to check flight status.