---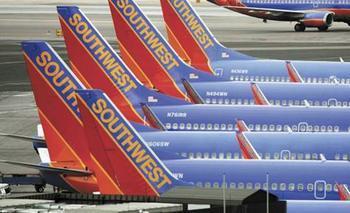 Sometimes computer problems are pretty simple, like when the dog steps on your power strip and turns it off. But no matter what the cause may be, technology glitches can take a heavy toll, as Southwest Airlines passengers were reminded Wednesday when unexplained problems hit the discount carrier's network.
Customers were unable to check in for flights and gate agents had to manually issue boarding passes while the system was offline, causing many flights to be delayed and, in many cases, canceled.
"As a result of the technical issues we canceled nearly 700 flights Wednesday and hundreds more were delayed. Employees worked around issues with primary systems and utilized back-up procedures to get as many customers and checked luggage to their intended destinations as we worked to fix the system," Southwest said in a statement late Wednesday.
Not all consumers were satisfied with the airline's efforts. "Rather than offer all delayed travelers the usual compensation, they are in fact offering flights that later get canceled as well (bogus flights). Computer glitch or not, what they are doing is wrong. You don't promise to rebook and than cancel that flight as well," Michael of Midvale, Utah, said in a ConsumerAffairs review.
"A simple one-hour flight turned into delays due to their systems failing, a 40-minute wait sitting on the flight line and another hour wait for bags," said Joshua of Cameron, N.C. 
220 Thursday flights
The carrier said that most systems were back online Thursday morning, but at least 220 Thursday flights were canceled and delays continued to ripple through the system.
"We are focused on getting customers and their luggage safely to their travel destinations and apologize to our customers whose travel plans are impacted," Southwest said. It advised consumers who are booked to travel to check flight status information on Southwest.com and plan to arrive to the airport early, as long lines may occur. It said flexible rebooking accommodation will be available through Sunday. 
"It's never too early to say thank you and to extend our apologies and we want to share those sentiments both with our hard-working employees and our loyal and understanding customers," Southwest concluded.
---