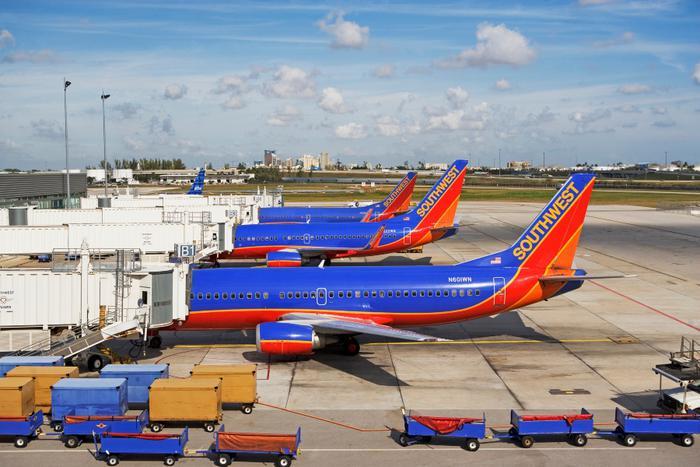 Southwest Airlines has done its best to hold steady through the first nine months of the COVID-19 pandemic, but it's finally thrown up its first caution flag. On Thursday, the airline warned 6,800 employees that they may be furloughed in the spring. 
According to CNN, potential furloughs would affect 2,551 ground crew members, 1,176 customer service agents, 1,500 flight attendants, and 1,221 pilots. Southwest said the employees are safe for now, but if the other shoe does indeed drop, the cuts would take place on March 15 or April 1. In October, the company's CEO Gary Kelly essentially forecasted the furloughs when he said "we will all need to sacrifice more," adding that company leaders are taking a 10 percent pay cut in the year ahead. 
If the threat becomes real, it will be the first time Southwest has had to resort to layoffs to stay afloat -- and no one can't say it didn't try to avoid that outcome. Over the last six weeks, ConsumerAffairs counted five major discounted airfare promotions that the airline offered consumers to try and recapture some of the $2.75 billion it lost during the pandemic. 
Holding out hope
An internal memo to Southwest employees stated that the airline is open to cutting a deal with union groups to avoid the nearly 7,000 furloughs. "We are not closing the door -- we'll continue negotiations if union representatives want to continue working toward reaching mutually agreeable solutions," it read.
Two of Southwest's major unions fired right back, objecting to the company's planned furloughs and saying that union leadership will continue to fight to save jobs.
"While this development is not completely surprising, it is incredibly disappointing to our pilots and their families," said Captain Jon Weaks, president of the Southwest Airlines Pilots Association (SWAPA). He also said the union "remains committed to finding solutions that will dissuade the company from taking any further steps towards furloughs."
The Transport Workers Union (TWU), which represents Southwest flight attendants, thinks the airline is crying wolf when it's actually flush with billions in reserves. 
"Southwest Airlines has approximately $15 billion in cash on hand and is predicted to be the first airline to emerge in making money for its shareholders," said Dan Akins, airline economist and an advisor to the TWU. The union claims that it's offered the airline a variety of cost savings proposals and that thousands of Southwest flight attendants even offered to take extra unpaid leave in order to save their jobs.