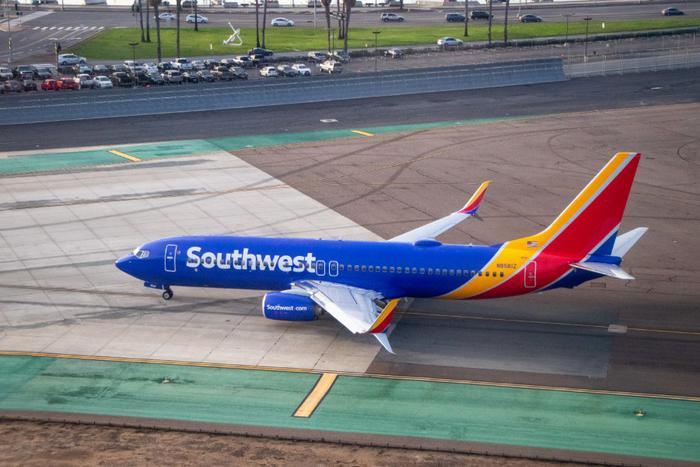 With an end-all and be-all of the COVID-19 pandemic still undetermined, Southwest Airlines is renewing its vow to support the well-being and comfort of both its customers and employees by continuing to limit the amount of seats sold on every flight to allow middle seats to remain open.
People flying together as family and friends still have the option of sitting together and will be allowed to occupy a middle seat if they like.
Health-conscious Thanksgiving holiday travelers will be happy to know that the airline's commitment will last through Nov. 30. As part of its COVID-19 plan, the airline will continue to require face masks to be worn at all times. It will also enforce physical distancing measures in airports and onboard aircraft and rigorously clean its facilities and aircraft every single day.
Southwest updates what travelers can expect 
Face Coverings Required: All airline employees and any passenger over the age of two are required to wear a covering over their mouth and nose from the moment they board the plane until they're out of the gate area when they land. All travelers are required to a) acknowledge an awareness of the carrier's face covering policy; and b) wear a face covering. If a passenger doesn't have a mask, Southwest will have them available at the airport and onboard to ensure compliance with the policy.
Customer Health Declaration: All travelers are required to confirm they do not have symptoms of COVID-19; nor have they been diagnosed with, or exposed to, COVID-19 in the 14 days prior to travel; and that they do not have a fever at travel time.
Physical Distancing in Airports: If you haven't flown Southwest lately, boarding a Southwest flight in the COVID-19 heyday, the process may be new to you. To allow for distancing, the airline boards in smaller groups of 10 and only on one side of the boarding poles in the gate areas. In addition, the airline has installed Plexiglas at ticketing and gate counters and baggage service offices to further insure protection during in-person transactions and interactions.
For a complete rundown of Southwest's updates and policy changes, you can find them here.