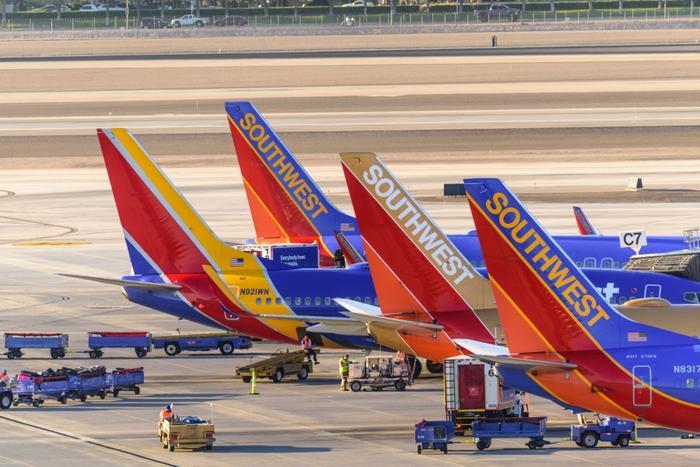 Inside of a week's time, Southwest Airlines has been on quite a rollercoaster ride. First, it raised a toast to news that its employees earned $544 million in profit sharing, then had to stare down a public relations nightmare over 100 cancelled flights, a thousand delayed flights, and reports that the airline told its mechanics that, despite those unexpected groundings, they better show up for work or look elsewhere for a paycheck.
"The uptick in maintenance items we experienced over the last few days have resulted in a slight increase" in cancellations, a Southwest Airlines spokesperson told CNBC. However, the official held off on providing a breakdown for interruptions caused by either maintenance or Mother Nature.
Flying or not, Southwest told its mechanics to sit tight. According to a report by the Chicago Business Journal, mechanics were told they'd be assigned overtime. However, officials said they would only honor vacation or shift trade requests that had already been approved.
The number of Southwest's cancelled flights numbered more than any other U.S. airline and was double Southwest's daily average, according to flight-tracking site FlightAware. The airline typically pencils in a max of 20 aircraft removed from service for various and sundry issues on any given day.
Southwest's negative experience with its Boeing 737 fleet has been mounting. Less than a year ago, a cracked window caused Southwest Airlines jet to make unscheduled landing and, around the same time, federal safety investigators amped up their examination of the engine of a Southwest Airlines jet that killed a passenger when it exploded in midair.
How old is too old in airplane years?
Some may wonder if the life expectancy on Southwest's fleet is running out. Aviation experts have weighed in on some of the problems that might come about over time.
"Aircraft lifespan is established by the manufacturer and is usually based on takeoff and landing cycles," former Federal Aviation Administration official John Petrakis told Smithsonian's Air & Space magazine. "The fuselage is most susceptible to fatigue, but the wings are too, especially on short hauls where an aircraft goes through pressurization cycles every day."
In Southwest's situation, the average age of its 737 fleet is close to 11 years, with some of its models still flying 19 years after their first take-off.
Comparatively, Southwest isn't pushing its luck further than any other airline, according to AirSafeNews. American, Delta, and United all count on their fleet to last that long.
Like an a automobile, if an airplane is well-maintained and follows instructions from the FAA and the manufacturer, its life expectancy can increase.
"The whole focus is to detect problems before it becomes catastrophic," Bill de Becker, Chairman of Conklin and de Becker Aviation, told TravelPulse.