---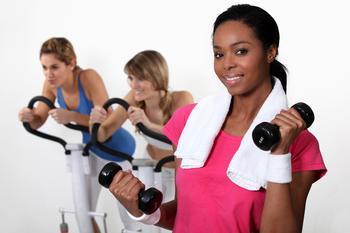 You know it's true: You've spent a good chunk of the last month on the couch watching bowl games or stuffing yourself attending various holiday parties. So now that the new year has arrived, you've resolved to shed the pounds, get in shape, blah-blah-blah, yadda yadda yadda.
However, if you are really serious, Gold's Gym has put out what it calls its "Fitness Bucket List" for 2013, whereby you measure success in fitness achievements, rather than pounds lost.
"Losing weight and getting back into the swing of a gym routine often tops the list of New Year's resolutions each year. However, making such broad resolutions can be a recipe for failure, with many losing focus and falling off the resolution bandwagon throughout the first few months," said Dave Reiseman, a spokesman for Gold's. "Through our collaboration with some of the world's top fitness minds, we have created a list of challenges that give consumers clear goals that will pave the way for them to stay on track, while also getting in shape and improving their health in the process."
If you're up for it, here's what the fitness gurus at Gold's are recommending:
Slip back into those Skinny Jeans
Everyone has a favorite pair of jeans that serve as the judge and jury determining your current level of fitness. This denim barometer has been your tried and true friend throughout the years -- giving you the honest feedback to keep you on track. So in 2013, be proactive and keep those two legged friends fitting like a glove.
Beat your best picture
Whether it's you on your wedding day or lying on the beach with your friends during spring break, most of people have a photograph that shows them looking their best physically. In 2013, the challenge is to dust off those shots and not only make them a reality, but to take it up a level -- and look even better.
Run a 5K
This New Year, lace up your sneakers and hit the ground running by signing up for a 5K. Five kilometers (3.1 miles) is an ideal distance for new runners because it's the shortest of the most popular running events and allows you to achieve the ultimate in both overall fat burning and cardiovascular capacity. Crossing the finish line will also give you a good sense of self competition and push you to continue your progress with the next event.
Master an aquatic sport
If your workout routine is feeling stale, try getting off the mainland and diving into a new fitness challenge -- aqua style. Mastering a sport such as surfing, paddle board, swimming or kayaking will transform your body as you enjoy yourself -- making your workout anything but routine.
Complete a Tough Mudder
Designed by the British Special Forces to test strength, stamina and mental grit, Tough Mudder races are considered an ultimate fitness challenge that force you to endure freezing cold water, running through fire and a host of other obstacles. For this challenge, grab a friend -- unlocking a sense of camaraderie that will not only create an exercise that takes your fitness to the next level, but your friendship as well.
Try a group exercise class
From Kangoo and TRX to boot camps and barre classes, the world of health and fitness offers a smorgasbord of ways to slim down and tone up. This year, step out of your comfort zone once a month, experiencing all fitness has to offer. You might just find that it's just what you need to shake up your routine and keep you going strong to 2014.
Run the "Rocky Stairs"
When Rocky completed the 72 steps in front of the Philadelphia Museum of Art,a fitness milestone was born -- inspiring generations of people to "step up" to the challenge. For those of you outside of Philly looking for a similar experience, find the tallest flight of stairs, crank up your iPod to "Gonna Fly Now" and throw your hands up in the air once you reach the top!
Eliminate your weakness
Everyone has a weakness. For Superman it was Kryptonite; for you, maybe it's poor balance or a weak core. It's easy to push these weaknesses aside and focus on your strengths, but as the adage goes, "a chain is only as strong as its weakest link." This year, hone in on these flaws and challenge yourself to become a new you -- kissing weakness goodbye.
Do 100 sit-ups
By conquering a century set (100 reps) of old fashioned sit-ups or push-ups, the spirit of Jack LaLanne will live on through your celebration of functional exercise. It marks a milestone of strength and endurance combined beautifully in one task that proves without a doubt that you're part of an elite group of fit individuals.
Climb a mountain... on every continent
Whether it is Asia's Mount Khuiten, Africa's Mount Kilimanjaro or the Matterhorn in Europe, the world is filled with mountainous adventures. Nothing spells out a fitness challenge like hiking a mountain and facing the unknown. Not only is it a full body workout, but it will also teach you a thing or two about survival techniques. So the next time someone tells you to take a hike, take him up on it.
Of course, the old advice applies: Consult with your doctor before taking on any physical challenge.
---