---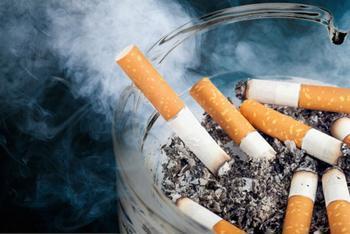 Since the 1964 Surgeon General's report that linked cigarette smoking to cancer, we have known of tobacco's corrosive effects on health.
But just how corrosive is it? A new report from the Centers for Disease Control and Prevention (CDC) suggests as many as 40% of all cancer cases diagnosed in the U.S. may have a tobacco link.
While tobacco use is most closely associated with lung cancer, the reports cites evidence that it also causes cancers of the mouth and throat, voice box, esophagus, stomach, kidney, pancreas, liver, bladder, cervix, colon, and rectum, and a type of leukemia, known as acute myeloid leukemia.
In short, the report's authors conclude that avoiding tobacco use is the best way to prevent the disease, which affected about 660,000 people in the U.S. from 2009 to 2013, killing more than half.
Another way of looking at it, since 1990 about 1.3 million cancer deaths linked to tobacco have been avoided because either people quit smoking or never started in the first place. CDC Director Dr. Tom Frieden says that should just be a start.
Preventable deaths
"There are more than 36 million smokers in the U.S.," Frieden said. "Sadly, nearly half could die prematurely from tobacco-related illnesses, including six million from cancer, unless we implement the programs that will help smokers quit."
But progress has been coming faster in recent years. In a separate CDC report, health officials note that cigarette smoking among U.S. adults has dropped more than 20% from 2005. From 2014 to 2015, there was a 1.7% drop, resulting in the lowest number of adult smokers since the government began collecting data in 1965.
Cigarette smoking surged in the years after World War II, some say encouraged by the fact that every GI's rations included a pack of cigarettes. As viewers of the hit series "Mad Men" saw, cigarettes were a ubiquitous part of American life in the 1960s. In 1965, the CDC estimates more than 42% of Americans were smoking.
Currently, the CDC estimates 16.8% of U.S. adults still smoke cigarettes, leading to more than $300 billion in annual health care costs.
---