---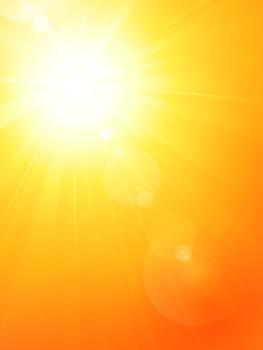 According to the Centers for Disease Control and Prevention, over 61,000 people in the U.S. were diagnosed with melanomas of the skin in 2009, and in that same year a total of 9,199 people died from the disease.
Researchers have been trying to find better ways to catch the disease in its early stages, when it's more treatable.
Recently we reported about a new handheld skin cancer detector called the Molemate, which allows doctors to run a device along a part of the body to test for cancer, without having to cut a piece of the skin off.
Now, pushing technology even further, there's a smartphone app called UMSkinCheck, one of several apps that claim to be adept at identifying dangerous skin conditions.
For some, it may be hard to think of an app as something one can use for skin cancer detection, but since most consumers have become extremely comfortable using apps these days, it makes sense for developers to create a user friendly kind of technology--like a phone app--that people will have at their fingertips to use regularly if they wish.
The smartphone app was created by the University of Michigan's Health System and it lets users snap photos of a mole or lesion that could be cancer or could become cancerous over time.
Experts cautious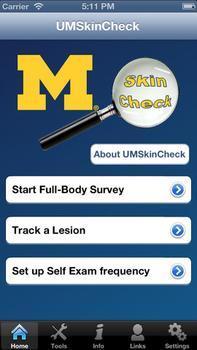 Not everyone is sold on the idea, though. In a study published today, researchers at the University of Pittsburgh Medical Center said the accuracy of smartphone applications in assessing melanoma risk is "highly variable."
Three of four applications incorrectly classified 30 percent or more of melanomas as unconcerning, according to a report published Online First by JAMA Dermatology, a JAMA Network publication.
Sensitivity of four applications tested ranged from 6.8 percent to 98.1 percent. The highest sensitivity for melanoma diagnosis was observed for an application that sends the image directly to a board-certified dermatologist for analysis, while the lowest sensitivity for melanoma diagnosis were applications that use automated algorithms to analyze images.
Supplement, not replacement
The app is intended primarily for people who are at higher risk of getting skin cancer, due to family history or other reasons, and health experts say these people should conduct skin tests on a regular basis--and, just to state the obvious, should stay in close touch with their dermatologist and use the app to supplement, not replace, regular doctor visits.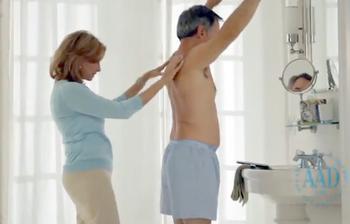 Besides storing images, the UMSkinCheck app presents a series of questions that will help you estimate how likely the mole or lesion you have is potentially cancerous.
By no means do the creators of UMSkinCheck expect people to use the app in place of a dermatologist, and they emphasize the app should be used under the supervision of a dermatologist or other physician who specializes in skin cancers.
The hope is that the app helps consumers make skin tests a routine part of their lives. People who are prone to skin cancer--including fair-skinned people, those who've spent a lot of time in the sun and anyone with a family history of skin cancer--should be seeing a dermatologist regularly, at least twice a year.
Reminders and videos
Besides letting users conduct a full-body survey and track individual lesions, the UMSkinCheck gives reminders about when to begin the next self-examination. The app also comes with a series of informational videos on skin cancer prevention, so users can remain educated about the illness.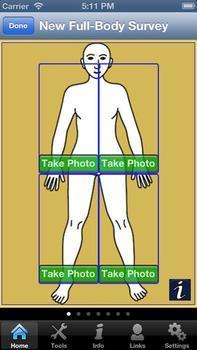 Dr. Michael Sabel, who was one of the physicians in charge of creating the phone application, said it can be especially useful for those who need body photos for cancer detection, but don't have the insurance to cover regular doctor visits.
"Whole body photography is a well-established resource for following patients at risk of melanoma," he said. "However, it requires a professional photographer, not always covered by insurance, and it can be an inconvenience. Now that many people have digital cameras on their phones, it's more feasible to do this at home."
Users of the app will not only be able to trace a lesion to determine if it's growing or not, they can also share those photos with a dermatologist to get their insights, to determine if more tests and treatment are needed.
Dr. Sabel emphasized that allowing people to test themselves should dramatically increase the chance of cancers being caught early, which not only raises the chance of survival, but also may allow patients to undergo procedures that are far less intrusive.
"We recommend skin self-exams for everyone in order to detect skin cancer at the earliest stages, when treatment is less invasive and more successful, he said in a published interview.
"If you have fair skin or burn easily, have had sunburns in the past or used tanning beds, or have a family history of melanoma, you are considered high-risk, and so it's even more important."
The UMSkinCheck can be downloaded for free in the iTunes app store.
---