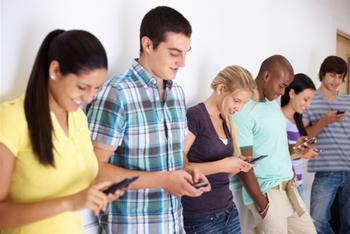 Adolescents who spend hours per day staring into a tablet, smartphone, or computer are more likely to become obese, a new study suggests.
Researchers from the Harvard T.H. Chan School of Public Health found that teens who used screen devices for five or more hours daily were twice as likely to engage in behaviors that can lead to obesity.
The study found that screen-using teens were more likely to drink sugary beverages and not get enough physical activity. These behaviors resulted in a 43% increased risk of obesity compared with kids who didn't use smartphones or tablets.
One in five
To reach these findings, the authors studied data from the 2013 and 2015 waves of the Youth Risk Behavior Surveillance System. Responses from almost 25,000 teens in grades 9 through 12 showed that teens' use of screen devices often accounts for a significant portion of their day.
While TV-watching has been, and continues to be, associated with behaviors that can lead to a higher risk of obesity, the researchers found that teens' screens of choice usually aren't televisions.
These days, one in every five teenagers spends more than five hours a day on smartphones, tablets, computers, and video games. By comparison, the study found that just 8% of teens watched more than 5 hours a day of television.
Setting limits
Although the study did not prove that using screen devices causes obesity risk to rise, researchers say the findings are cause for concern. With childhood obesity on the rise, the authors say pediatricians should start encouraging families to set limits for both TV and other screen devices.
"This study would suggest that limiting children's and adolescents' engagement with other screen devices may be as important for health as limiting television time," said lead author Dr. Erica L. Kenney.
What can you do if your child is spending too many hours each day gazing into a tablet or smartphone? Kenney recommends talking with your pediatrician about strategies for how to cut back. Parents can also keep screen time from interfering with physical activity and face-to-face interactions by creating a personalized Family Media Use Plan.
The findings are scheduled for publication in the Journal of Pediatrics.