---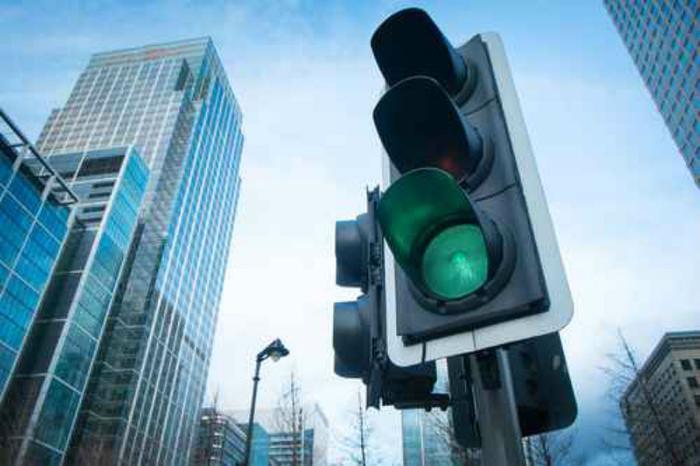 Many things may contribute to road rage, but there can be little doubt that traffic signals that are not synchronized are among them.
According to the U.S. Department of Transportation, outdated traffic signaling accounts for more than 10% of all traffic delays. Besides adding to driver frustration, it also contributes to excessive fuel consumption and air pollution.
It's not as though traffic engineers haven't known for years how to fix this. "Smart" traffic lights are in place in many areas, allowing signals at intersections to adjust to real-time traffic conditions.
In fact, some form of adaptive signal control technologies have been in use in the U.S. for approximately 20 years, but have been deployed on fewer than 3% of intersections controlled by traffic signals.
Los Angeles and neighboring Orange County have deployed the most adaptive traffic signals, but as Time Magazine recently reported, Bellevue, Wash., is making a major investment in the technology.
Longer greens during heavy traffic
Wires have been embedded in city streets to inform the lights how much traffic is moving through the intersection. At times of heavy traffic, the green signal stays on a little longer. During rush hour nearby intersections sync their lights to allow long periods of green.
Adaptive signals are the next generation of newer technology traffic signals that detect the presence of cars at an intersection and adjust the signal accordingly. Some use electromagnetic loops in the pavement.
Cars activate the sensors when they drive over them, causing the light to stay on for a certain period. But oftentimes, the timing at intersections only gets reset every three to five years.
More sophisticated signals
Municipalities have lately been migrating toward more sophisticated signals. While they still use loops, video cameras, and radar to gather data on traffic patterns, they have changed the way they handle that information.
According to a report by the Pew Charitable Trusts, rather than having a traffic engineer set and reset a signal's timing in a control room, they install adaptive systems that use algorithms that work in real time. The signals essentially figure out how much traffic is coming their way and adapt automatically to change their timing. That requires a lot of technical support.
Engineers at Florida Atlantic University (FAU) are using a $100,000 grant from the City of Miami Beach to test two new adaptive traffic signals being considered for one of the busiest corridors in South Beach – Arthur Godfrey Road.
"With better sensing technologies such as wireless communication and personal mobile devices, smarter algorithms, and more processing power, we are moving towards an era of much more efficient, safer and eco-friendly traffic signals," said Mohammad Ilyas, Ph.D., dean of FAU's College of Engineering and Computer Science.
Ground zero
FAU's Laboratory for Adaptive Traffic Operations & Management (LATOM) is ground zero for research and development of smart traffic signals.

"Congested roads have long been a headache for contemporary cities and we need to look at innovative ways to deal with traffic," said Aleksandar Stevanovic, director of LATOM. "While better management of traffic signals won't reduce the number of cars on our streets, we can do a much better job in adjusting signals to work more efficiently."
Stevamovic also says smart traffic lights, if timed properly and continually, can both reduce traffic delays and improve public safety.
Since they are relatively new technology, adaptive control systems are still pretty expensive. That's why state and municipal governments are turning to research institutions to pre-test their effectiveness.
According to the Federal Highway Administration, a major barrier to wider use of smart traffic control systems has been their cost. Start up includes initial investments in signal control hardware, communication networks, and comprehensive traffic studies, as well as the cost of periodic updates to adjust systems to changing traffic conditions. Both conventional and adaptive systems require periodic traffic studies and recalibration.  
---