---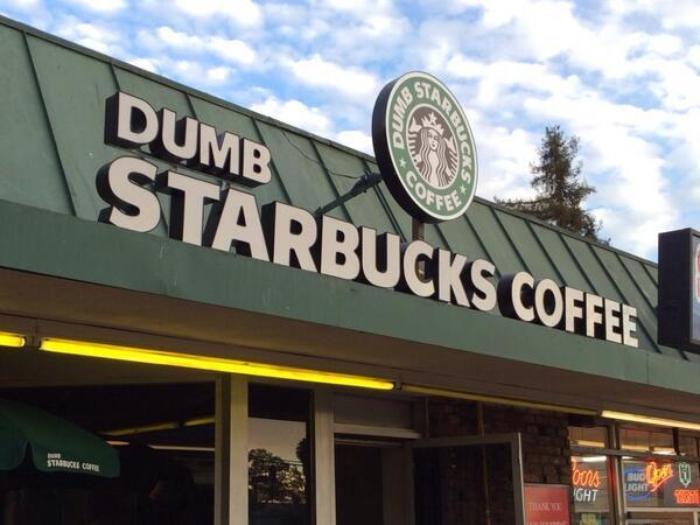 Be glad you never invested in the Dumb Starbucks franchise, for it is no more: health officials shut down the coffeehouse-qua-performance art installation on its fourth day of operation, due to its lack of health permits.
Dumb Starbucks opened its doors in the Los Angeles neighborhood of Los Feliz last Saturday -- a little coffeehouse that looks exactly like every Starbucks franchise you've seen, only with the word "Dumb" affixed to everything. And everything was handed out for free, despite the Dumb prices listed next to the Dumb offerings on its Dumb menus.
Although spokesmen and legal representatives for "classic" Starbucks promised to look into possible trademark violations by Dumb Starbucks, ultimately it was the Los Angeles County Health Department who brought the enterprise to a halt. (No big loss, apparently; people who actually sampled Dumb Starbucks offerings said the coffee was "bitter" and the hot chocolate tasted like "water".)
Dumb idea
Not until Monday afternoon did the brains behind the stunt announce himself — Dumb Starbucks was the creation of a Canadian comic named Nathan Fielder, who filmed antics inside Dumb Starbucks for an upcoming TV show. (What's that – you say you've never heard of Nathan Fielder before? Well, then, his publicity stunt worked.)
Despite Fielders' initial claims that Dumb Starbucks was a fair use parody rather than a trademark violation, legal experts agree this wouldn't actually hold up in court — no, you may not open a burger joint called "Stupid McDonald's" or "Five Dumb Guys" and thus avoid paying franchise fees to the original hamburger restaurants.
However, since Fielder never actually charged money for his Dumb coffee products, and furthermore since the Dumb stunt is over except for the upcoming Dumb TV show about it, he might well avoid facing a Starbucks trademark-infringement suit after all.
Even so, we sincerely advise you: don't try a Dumb stunt like this at home, or even in a nearby low-rent strip mall storefront.
---