---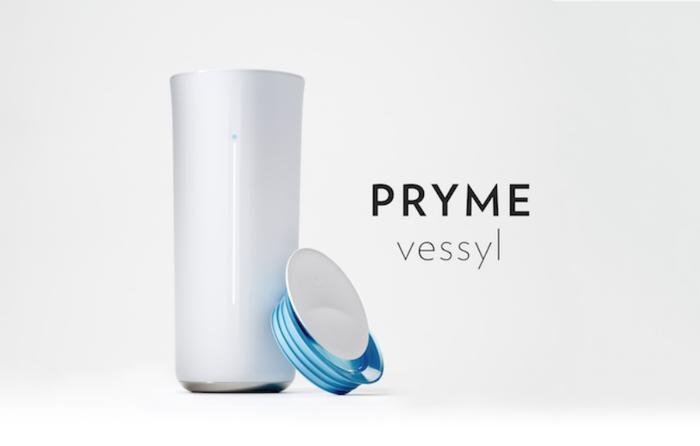 To stay adequately hydrated, most health providers suggest drinking eight cups of water each day.
But if that one-size-fits-all approach to water consumption seems a bit arbitrary to you, well, there's now a smart cup that tells you exactly how much liquid your body needs.
The Pryme Vessyl is an "intelligent" cup that computes a number of personal factors to determine each user's hydration needs throughout the day. Developed by Mark One, it retails for $99 in select Apple retail stores in the U.S. and Canada and online.
The developers say they worked to "debunk the myths around hydration," arguing that consuming just the right amount of water each day keeps users mentally sharp and physically strong.
Hydration algorithm
The stylish cup automatically tracks your water consumption and incorporates this data into a hydration algorithm, alerting the user to his or her hydration needs at each point during the day. The cup takes into account factors such as height, age, weight and sex, as well as changing variables like sleep and exercise, to help you understand your personal hydration needs.
It's compatible with the Apple Health App on iOS and Jawbone UP, allowing users to track physical activity and adjust their hydration needs accordingly.
To get started, just download the Pryme app and enter a few facts about yourself, like birth date and sleeping habits. After that, the cup automatically tracks each sip and, the developers say, continuously helps you stay at your optimal hydration.
Illuminated line
You can keep up with your needs by observing an illuminated line on the side of the cup that rises and falls based on how well you are meeting your needs. You activate the device by picking it up and tilting it.
"It's clear that a marathon runner will have different hydration needs than a sedentary office worker, yet as a society we're content with relying on the myth of eight glasses of water per day, regardless of lifestyle," said Nic Barnes, Head of Brand for Mark One. "We developed Pryme to help you understand that it's not about how much you need in a day, it's about how much you need right now. At your Pryme, you are mentally sharp and physically strong. We want you to Pryme for your moments of greatness."
The Pryme cup may have another useful purpose. Consumers who use it are less likely to drink from plastic water bottles that constantly end up in landfills or the ocean.
And though the company has not suggested something is even on the drawing board, a smart martini glass or beer mug – telling users when they've had enough alcohol – might also be a useful product.
---