---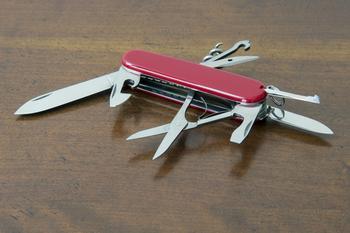 Starting April 25, the Transportation Security Administration (TSA) is changing its guidelines on Prohibited Items to allow airline passengers to carry small knives permitted in their carry-on luggage.
The knives must meet the following requirements to be allowed in carry-on bags:
The blade must be no more than 2.36 inches or 6 cm in length -- from tip to where it meets the handle or hilt.

The blade must be no more than ½ inch in width.
Knives with locking or fixed blades, molded grips and razors and box cutters are not permitted
If a passenger is unsure if an item meets the requirements, TSA suggests placing it in checked luggage.
Sports equipment
In addition to small knives, the following items of sports equipment will be allowed to be carried on a flight:
Lacrosse Sticks

Pool Sticks/Cues

Golf Clubs (limited to 2)

Hockey Sticks

Ski Poles

Bats more than 24 inches in length and less than 24 ounces
The agency says the decision to permit certain items in carry-on luggage was made as part of what it calls its "overall risk-based security approach," and aligns TSA with International Civil Aviation Organization Standards and its European counterparts.
Difference of opinion
The president of TWU Local 556, the Southwest Airlines' Flight Attendants Union, calls the decision "outrageous." Stacy K Martin says the new policy was designed "to make the lives of TSA staff easier, but not make flights safer."
He calls the change "an unnecessary risk for everyone who flies," adding that it is "dangerous, shortsighted and should be immediately rescinded."
---