---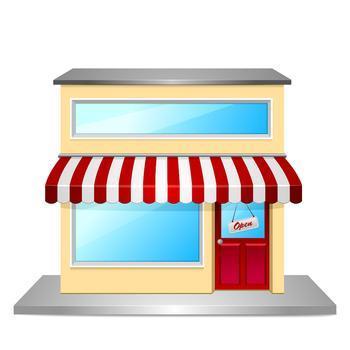 We know from recent reports that consumers are felling a little more confident about the economy these days. But what about the folks who operate small businesses.
Well, according to the National Federation of Independent Business (NFIB) Index of Small Business Optimism, there was an uptick of 1.9 points in February -- to 90.8. While that's an improvement over the last several reports, the index remains on par with the 2008 average and below the trough of the 1991-92 and 2001-02 recessions. NFIB calls the direction of February's change positive, "but not indicative of a surge in confidence among small-business owners."
Of the ten index components, one fell, one remained unchanged and eight improved. Most notably, the gains in capital spending and inventory investment plans were large. Still, by historical standards the levels remain very low.
Main Street not keeping pace
"While the Fortune 500 are enjoying record high earnings, Main Street earnings remain depressed. Far more firms report sales down quarter over quarter than up," said NFIB chief economist Bill Dunkelberg. "Washington is manufacturing one crisis after another -- the debt ceiling, the fiscal cliff and the sequester. Spreading fear and instability are certainly not a strategy to encourage investment and entrepreneurship."
The index shows three-quarters of small-business owners think business conditions will be the same or worse in six months. Although the index gained almost 2 points last month, Dunkelberg says until owners' forecast for the economy improves substantially, "there will be little boost to hiring and spending from the small business half of the economy."
Index highlights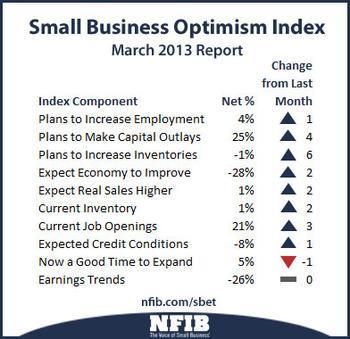 Sales

: Weak sales is still the top business problem for 18% of owners. The net percent of all owners (seasonally adjusted) reporting higher nominal sales over the past three months was unchanged in February -- at a negative 9%. There are still far more owners reporting declining sales than reporting positive sales trends.

Earnings and Wages

: Earnings trends were unchanged from January's reading of a net negative 26%. Not seasonally adjusted, 13% of small employers reported profits higher quarter to quarter (unchanged), and 43% reported profits falling (up 3 points). In comparison, the Fortune 500 are posting record high profits, revealing a bifurcated economy.

Credit Markets

: Small business demand for credit remained weak in February, given the weak economy. Only 7% of owners surveyed reported that all their credit needs were not met, up 1 point but only three points above the record low. Twenty-nine percent reported all credit needs met, and 51% explicitly said they did not want a loan (64% including those who did not answer the question, presumably uninterested in borrowing as well). Only 2% of owners reported that financing was their top business problem.
The report is based on the responses of 870 randomly sampled small businesses in NFIB's membership, surveyed throughout the month of February.
---