---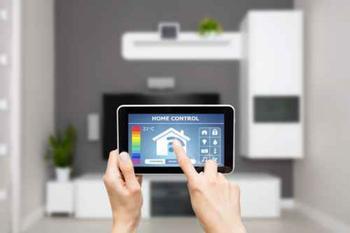 Smart home devices can turn your home into a welcoming and accommodating respite from the outside world. And turning your abode into a smart home may not be as difficult as you think.
Figuring out which rooms might benefit from smart home technology is the first step to transforming your space into one that works for you. All you'll need to do is go room-to-room and think about the tasks you tend to forget.
Do busy mornings leave you with little time to fire up the coffee maker? Does coming home late at night leave you scrambling to find your light switches? Asking yourself questions like these can help you pinpoint exactly where smart devices could help improve your life.
Ideas for every room
Contrary to popular belief, not all smart home technology is expensive or requires a complicated installation process. These simple, budget-friendly ideas can take your home from ordinary to accommodating in no time.
Motorized drapes. Swapping out your pull shades for motorized drapes can make life easier and help you manage your energy consumption. With smartphone controlled drapes, you'll be able adjust the lighting and privacy in your room at the touch of a button.
Smart lightbulbs. Energy-efficient, smartphone-controlled lightbulbs can help you save both time and money. Philips Hue lightbulbs, for example, sync to your Wi-Fi router via the Hue Bridge enabling you to control your lighting from your phone. Benefits of installing connected lighting include: the ability to switch off lights automatically after you leave, dimming options, and the ability to make it look like you're home when you're not.  
Coffee maker. Smart coffee makers can work with your smartphone to make your morning caffeination routine a bit easier. Instead of groggily measuring out water and grounds, let a smart coffee maker take on the challenge of prepping your morning cup of joe.
Outlet adapters. Plugging a smart outlet adapter into the wall can eliminate the struggle of feeling around for light switches or remotes in the dark. Smart outlets can be controlled from your smartphone, so you can effortlessly turn on your lights or TV before walking in the door.
Remote garage door access. If you often forget whether or not you closed the garage door, why not install a smart garage door opener? In addition to letting you know if your garage door is currently open or closed, garage door remotes by companies such as Chamberlain allow you to control the door from anywhere.
---