---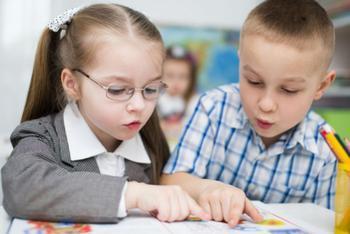 Throughout the school year, your child's vision will be a key player in their academic endeavors. From reading what's on the chalkboard to taking in the contents of their textbook, children's eyes have their work cut out for them.
Nearly 80% of what children learn during their first 12 years is through their vision, according to the American Optometric Association.
For this reason, parents should make sure their child's vision is normal and healthy before the first school bell rings. In young children, however, vision problems can be tricky to diagnose. So how can you tell if your child may need glasses?
Signs of vision problems
"Glasses may be the most important back-to-school supply many children get this year," said Eileen Gable, OD, an eye specialist at Loyola Medicine. "Vision problems in young children often go undetected and are difficult for family members to identify."
Gable recommends parents keep an eye out for the following problems, which may signal that your child could benefit from a pair of glasses.
Squinting. If your child has to adjust their behavior in order to see properly, vision problems may be to blame. Watch for signs of squinting, head tilting, or body position changes.
Losing interest quickly. Kids won't typically complain of blurry vision, but Gable says they will lose interest more quickly if visual activity is difficult. If your child loses interest quickly, it may be time for a visit to the eye doctor.
Changes in schoolwork or behavior. If your child's teacher notices a change in their behavior or if kids have difficulty attaining good grades, your child may be having vision problems.
What to do
To catch visions problems as soon as they arise, Gable says it's a good idea to have your child's eyes examined yearly, not just at the onset of problems. 
Look for an eye doctor who has experience working with children. In addition to experience, doctors should have a way of explaining things so that kids can understand.
When kids' vision problems are corrected, Gable says the sky's the limit.
"I love seeing the joyous sense of wonder and excitement when a child can see properly for the first time. Wearing glasses can make a student's future so much brighter."
---